Cooking and dining
Get ready to serve up with great summer savings
Everyday joy
Turn moments into memories with our picture-perfect pieces, designed for everyday joy and everyone's budget.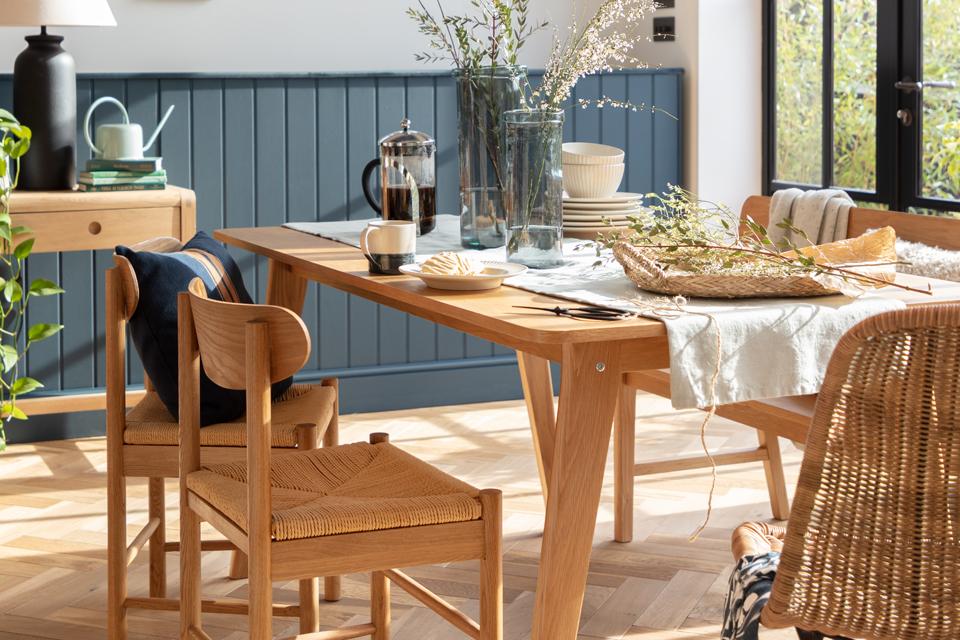 Rise and dine
Treat your dining room to a spring refresh in time for Summer with our selection of design-led tables, chairs and dining sets.
Cooking and dining at home can be an exciting and fun experience. The process of preparing a lovingly homemade meal can be a rather enjoyable one, that is as long as you have all of the essential kitchen accessories to help you along the way. Making sure you have all the essential kitchen tools and accessories such as saucepans, chopping boards and other cooking utensils to make meal prepping an easy and stress-free process.
Start by creating and organised kitchen area by putting things in storage jars; from ingredients to sauces and even your stainless steel cutlery. Storage jars will help to keep your cooking area tidy and clean. Speaking of hygiene, you'll want one of our stylish kitchen bins stationed nearby to make sure you can easily dispose of all your packaging and unwanted trimmings.
When it comes to dining at home, having a selection of beautiful dinner sets and tumblers can make the experience all the more pleasurable. There's nothing quite like staging your dining table with a gorgeous array of crockery and stylish bowls. Whether it's enjoying a morning breakfast on your bar stools or delicious dinner sat around a dinner table; it's the little things that make the biggest difference when it comes to cooking and dining at home.
Our wide range of cookware and accessories makes preparing food at home far simpler and more enjoyable. By investing in quality cooking products, you can ensure that cooking can be enjoyed for many years to come from the comfort of your own home.