Argos Card A-Z
We've brought together a glossary of words to help simplify the small print and untangle the T&Cs...
Back to Argos Card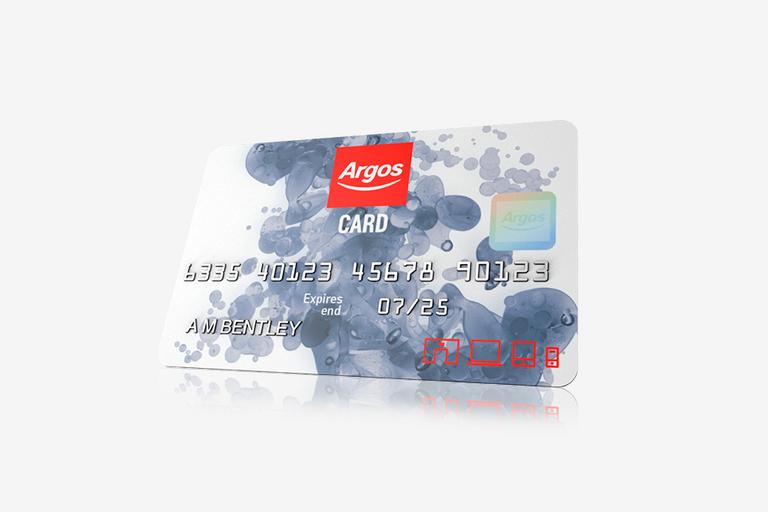 A
Adequate Explanation
The Adequate Explanation is info designed to give you all the details needed before entering into a finance agreement. It's a legal requirement under the Consumer Credit Directive.

APR
APR stands for Annual Percentage Rate. It tells you the amount of interest you'll pay over a year.

Annum
Annum means yearly or annually. So when you see 'Per Annum' it means 'Each Year.'

Argos Card
An Argos Card is a store card with a credit limit that allows you to make purchases from Habitat, Argos and Sainsbury's and pay at a later date. Depending on what you buy, you can use an Argos Card a bit like you would a regular credit card or take out an Argos Card credit plan.

It's important to note that, as a store card, you can't use an Argos Card at any other outlets. Also, you can only get credit plans on Argos and Habitat orders over £50.

To get an Argos Card, you have to be over 18 and undergo a credit check to confirm your eligibility.

Arrears
Arrears is another word for unpaid debt. Your account will be considered in arrears if you haven't made a payment on time or by the due date.
B
Buy Now, Pay Later
A Buy Now, Pay Later plan (also called an Argos Card credit plan) allows you to make a purchase and spread the cost over a number of months. As long as you pay for your purchase in full before your plan has ended, you won't pay any interest. We offer 3 - 6 month plans but occasionally offer other promotional plans too.

No interest will be charged if you pay in full within your credit plan period and keep your account up-to-date. If you don't pay in full, you'll be charged interest on any balance remaining at the end of the plan. This interest will be backdated to the date of purchase.
C
Consumer Credit Directive
The CCD is an Europe-wide directive which establishes common rules on all consumer credit agreements. It's designed to make it easier for you to understand and compare credit/finance products or services.

Correspondence
Correspondence is just another word for communicating with you. This can be by text, email, app notifications, phone, via social media or letter.

Credit
In Financial Services, if you're offered credit it means you've entered into an agreement to buy something without paying for it straight away. This agreement states that you'll pay for it at a later, agreed date. There are always terms associated with this agreement that you need to understand before entering into it.

Credit limit
Store or credit cards will have a maximum amount you can borrow. This is your credit limit. An Argos Card credit limit is reviewed on a regular basis and can be increased or decreased by us or you. If any changes are made, we'll always give you plenty of notice.

Credit scoring
In order to decide whether or not you're eligible to have an Argos Card, and what your credit limit will be, we'll credit score you using credit reference agencies. The credit scoring process looks at a number of different factors like how much credit you have outstanding, how well you pay your credit accounts and whether or not you have a poor credit history. This search will be recorded on your credit file.

Credit subject to status
Credit is subject to meeting certain eligibility criteria. For example, if you're under 18, you're not eligible to get credit. This criteria differs depending on the lender but you'll often see the term: credit subject to status. This means the lender will do some checks before offering you credit.
D
Deferred interest
Some of the Argos Card credit plans we offer are calculated using 'deferred interest.'

This means that interest isn't applied instantly but suspended for a certain amount of time.

For example, when you buy something on your Argos Card, and you agree to a credit plan which is 3-12 months in length. During the course of this credit plan, you'll accrue (or accumulate) interest on your balance from the date of your purchase. If you don't pay in full, you'll be charged interest on any balance remaining at the end of the plan. This interest will be backdated to the date of purchase.

As the interest is deferred, although you're accumulating interest, you only pay it once the agreed time period has lapsed. In other words, you only pay this accrued interest if you don't pay the balance of your Argos Card within your credit plan timeframe. If you clear the balance fully and on time, you won't be charged any interest.
E
Eligible/Eligibility
Credit is subject to status and therefore, not available to everyone. To apply for an Argos Card, you need to be over 18, have been a permanent UK resident for over 1 year and provide home addresses for the past 2 years, plus your UK bank details. We'll then assess your eligibility based on this info and run some checks.
F
Financial Conduct Authority (FCA)
The FCA are responsible for putting rules and regulations in place to make sure everyone in the UK financial services industry does the right thing for their customers. If they find companies aren't doing this, they can fine those who are at fault.

Financial difficulties
This can mean you're struggling to meet your financial commitments, such as making payments on time or falling behind on payments. If you're having financial difficulties associated with your Argos Card, give us a call on 03456 400 700 and we can talk through your options and help stop the problems escalating.

Financial Ombudsman Service (FOS)
If you make a complaint about a financial service or product and you're not happy with the outcome, you can refer your complaint to the Financial Ombudsman Service. As an unbiased third-party, the FOS will review both sides of the complaint. They can decide if you've been treated fairly. If they believe you haven't, they have legal powers to put it right.
H
Home Retail Group Card Services
Home Retail Group Card Services is the registered or official name of the company that owns the Argos Card. It doesn't affect your account in any way and you shouldn't notice any difference to the way you use your account.
I
Interest rate
Interest is the amount added or charged for borrowing money (for instance, when purchasing an item but paying for it later). With an Argos Card, if you pay the balance in full, within your agreed credit plan period, or have paid before your statement due date on normal credit, you won't pay any interest.
M
Minimum payments
This only applies when a balance is on normal credit (you have more repayment options with an Argos Card credit plan). We calculate this minimum amount each month and your Argos Card statement will show how much is due and the due date. Your minimum payment is made up of your balance, interest, fees and charges. The minimum amount is what you need to pay each month to avoid extra charges or late payment fees.
N
Normal plan/Normal credit
If you spend over £50 on your Argos Card, you'll often see a choice to pay using 'normal credit' or take out an 'Argos Card credit plan.' Normal credit works in the same way as a standard credit card. If you clear your balance before your next statement date, you'll incur no interest. Your monthly statement will show how much you owe and the date you need to pay it by. Credit plans aren't available on purchases under £50, so normal credit will be your only Argos Card payment option in this instance.
P
Persistent Debt
When an account is in Persistent Debt it means that you've paid more in interest, fees and charges than you have towards the items you bought. This could indicate that you might be having problems repaying your balance. The more interest you pay, the longer it will take you to clear your balance. The Financial Conduct Authority (FCA) have brought in new rules to try to help customers avoid overpaying interest.
R
Regulator/Regulatory
We are regulated by the Financial Conduct Authority (FCA).

Repayment
If you're making repayments to your Argos Card account, you're paying back the money that you've borrowed to buy your items.

Representative APR
The Representative APR is the APR that we'll offer most customers on their account. The APR we offer you is decided once you have been credit scored.

Right of Cancellation
You can end or cancel your Argos Card agreement at any time, without charge, by contacting us in writing or calling us. We'll tell you how to repay any outstanding balances. The agreement will only end once these have all been repaid. The Right of Cancellation is different to the Right of Withdrawal.

Right of Withdrawal
You have the right to withdraw from the Argos Card Credit Agreement from the day after you receive your card and for the following 14 days. The right to withdraw means you no longer want to purchase items using your Argos Card. If there's a balance on the card, you'll need to repay this first along with any interest (which is calculated up to the day you repay).

The Right to Withdraw is different to the Right of Cancellation.
S
Statements
We'll either send you a monthly statement in the post or you can choose to access online versions in your account or on the Argos Card App. A statement shows your Argos Card activity. For example, how many purchases you've made in the last month; how many payments you've made; how much interest has been applied (if applicable); your current interest rate; the balance outstanding on your card and any credit plans you have open. It also tells you how much you need to pay this month and ways to make your payment. It's important to open or access your statement regularly.
T
Terms and Conditions (or Further Conditions)
The terms and conditions (or T&Cs) explain your obligations as the customer (or borrower) and what we'll do as the lender. They give in-depth detail about how the Argos Card works. You should make sure you've also read and understood the Further Conditions.
V
Variable APR
APR stands for Annual Percentage Rate and is the amount of interest you pay over a year. If an APR is variable it means it can change over time. We'll contact you in advance if the APR on your Argos Card ever changes.
Need more info? Here are some quick links...
Habitat is a trading name of Argos Limited who is authorised and regulated by the Financial Conduct Authority as a credit broker, and works exclusively with Argos Card Lender, Home Retail Group Card Services, who are authorised and regulated by the Financial Conduct Authority to provide credit (716148). Home Retail Group Card Services Limited is registered in England (04007072) at 489-499 Avebury Boulevard, Milton Keynes, Buckinghamshire MK9 2NW.
Why buy at Habitat?