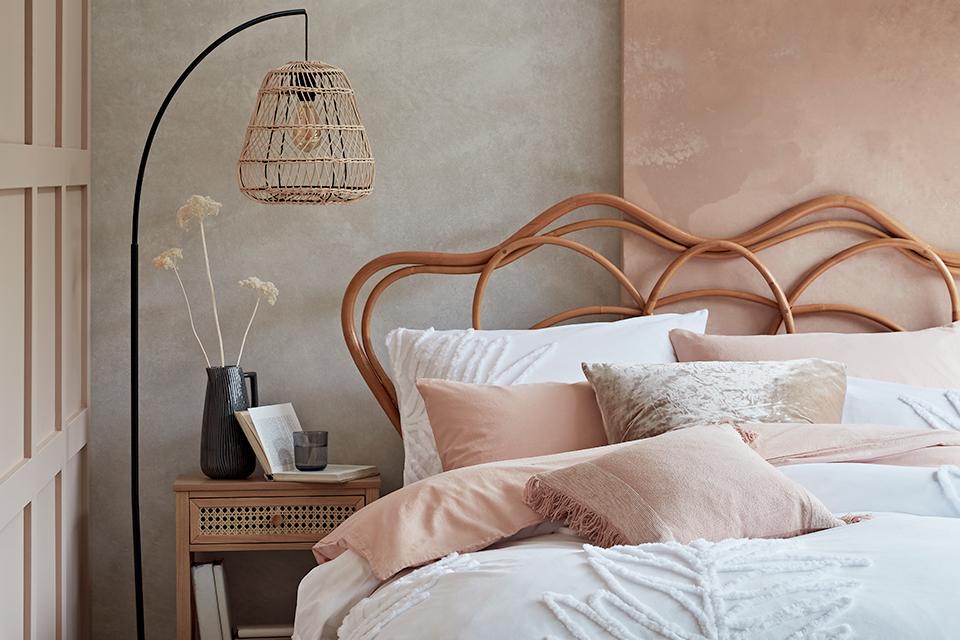 What is the artisan look?
Characterised by a harmonious palette of earthy hues and natural materials, our artisan edit is designed to create a calming and relaxed interior. The texture is key, adding pattern and depth through tufted textiles and simple, unrefined ceramics whilst lightweight woven rattan is used across pendant lighting and artisanal steam-bent headboards.
In the living room
Relax, rattan, repeat
We can't get enough of rattan furniture right now. As rattan is highly pliable we're able to achieve the most interesting and original shapes. This rattan bookcase pairs perfectly with a berber rug.
Screen time
Screen dividers provide a simple, flexible solution for zoning home spaces. Ideal for working from home, a woven or rattan screen provides a stylish backdrop for video calls and still allows light to flow around the room, while also minimising noise levels.
It's only natural
Did we mention that we're really into rattan? Big in the sixties and seventies, this natural, highly versatile material is weaving its way back into people's homes. It's a great way to add texture and warmth into space, without the heaviness of wood.
In the dining room
Natural lighting
Our natural lighting designs are stealing the spotlight this season. You can count on our bamboo and rattan lampshades and floor lamps to instantly brighten a space.
Material world
Rattan dining furniture? Yes, please. Our Mickey rattan dining chair combines classic and contemporary materials and techniques in its comfortable woven seat. Finished with powder-coated metal legs for a cool mid-century twist.
Go organic
Our artisan tableware offers a sense of connection to the natural world. Look out for organic shapes, rustic finishes, and earthy pigments such as warm terracotta. Sure to be the talk of the table.
In the bedroom
Natural sleep
The durability of rattan allows us to create unusual and exciting designs for the home such as this Asri headboard. Easily sliding behind an existing bed it will transform a bedroom instantly. Not to mention the fact that introducing natural materials such as rattan, bamboos, and natural jutes into a room can help create a more relaxed, calming space, so you won't have any problems catching some ZZZs.
Also trending
Why buy at Habitat?