A place for everything
Bookcases and shelving can transform a room so make sure you think about how it will work in your space. You can use bookcases to utilise your alcoves in your house, maybe it will be used as a wall divider, and will it sit in the hallway or living room? All of these will affect the style you may choose.
Let's get organised!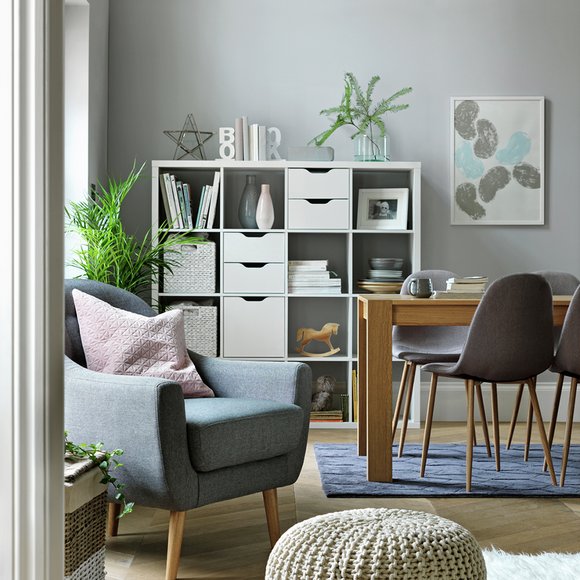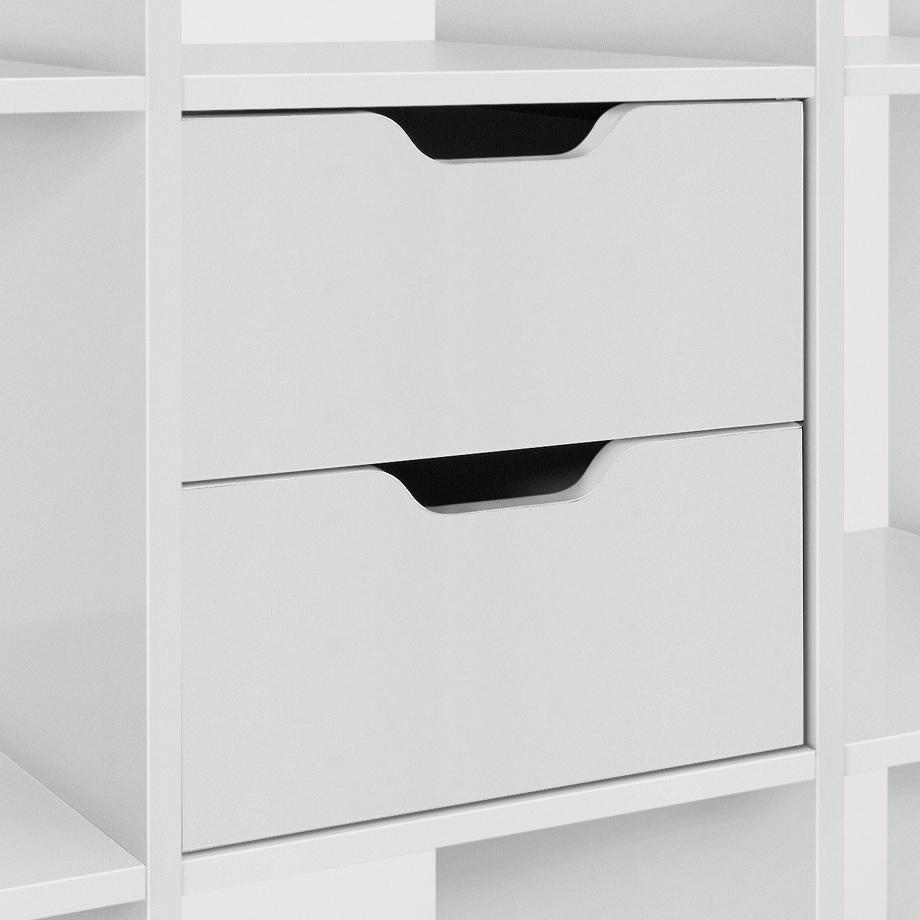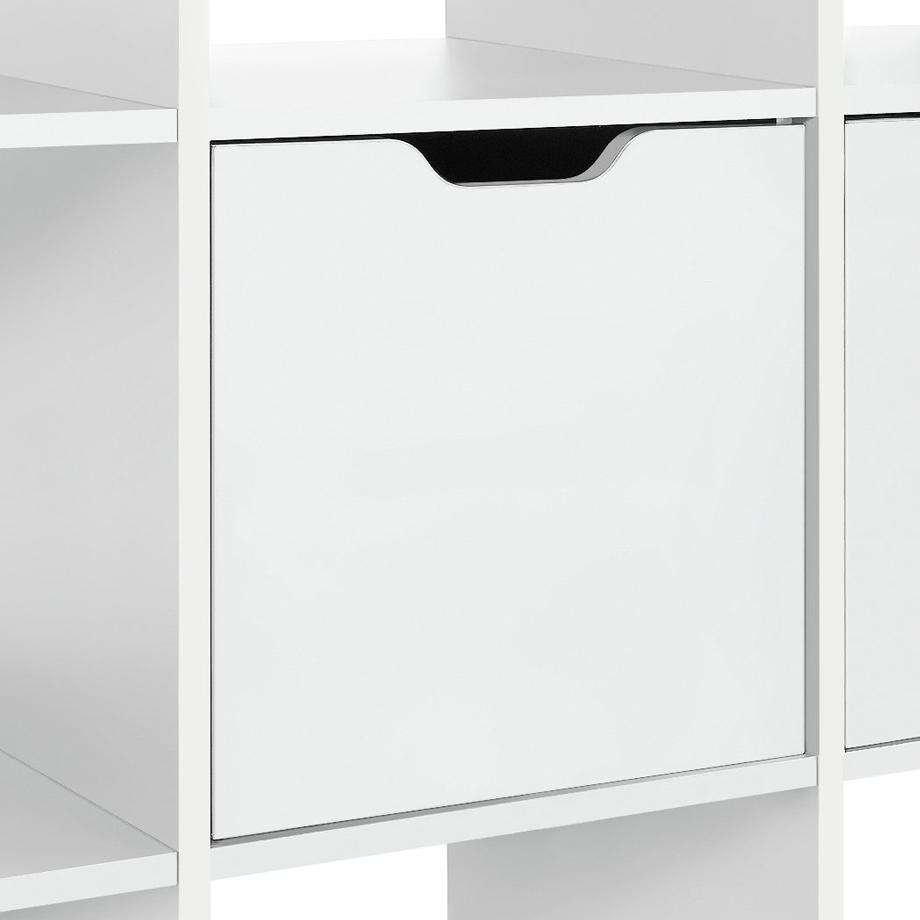 Chock a block
Cute and convenient, our storage cubbies can be easily tailored to suit your specific and changing needs.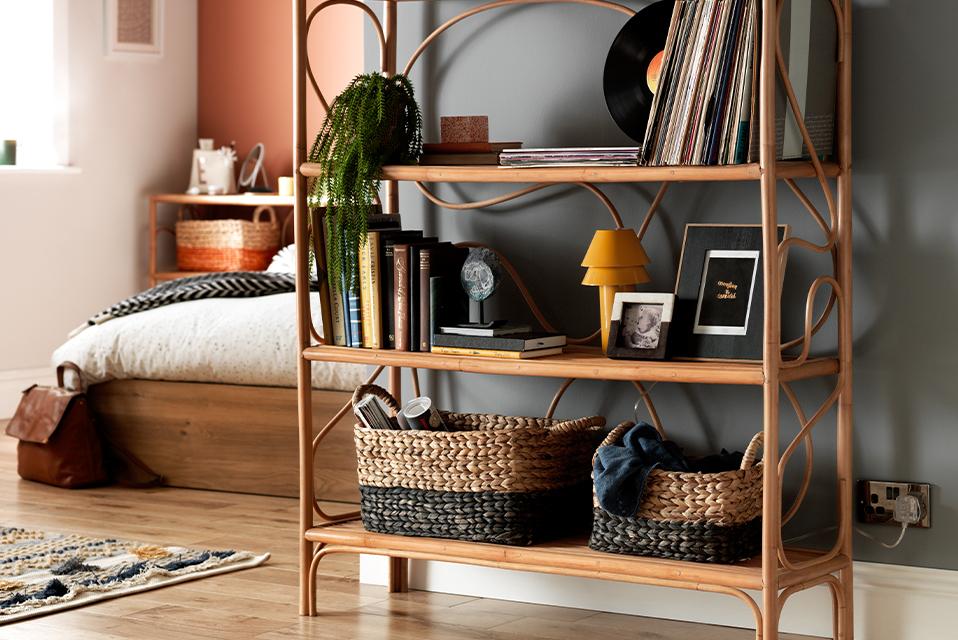 Storage as display
Consider the space you live in and why you are thinking of buying a bookcase or shelving unit. If you need a space-saving solution then maybe you would look at ladder storage as this works by ensuring the footprint of the storage is minimal but the function isn't compromised. Also ensure you think through what you want to store on the shelving unit, as this may effect what type of unit you buy.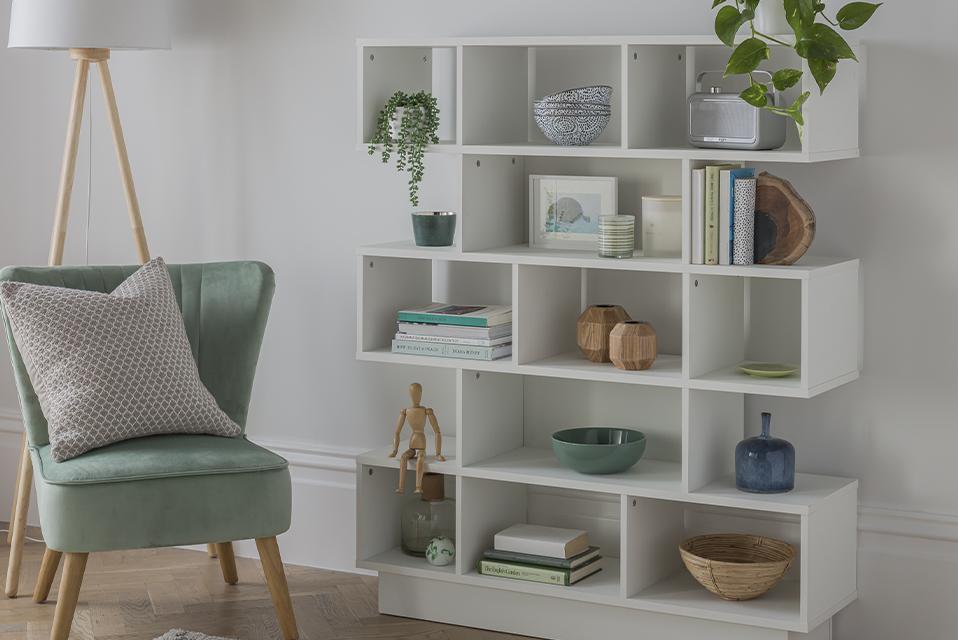 Shelf satisfaction
Practical storage or statement piece of furniture may determine what type of shelving unit you buy. At Habitat we have a mix of styles to suit everyone whether that is closed drawers and cupboards so you can hide your mess away. Open storage with a variety of heights so you can find something that suits your home or glass doors to keep your favourite items free from dust but still visible.
How to dress a bookcase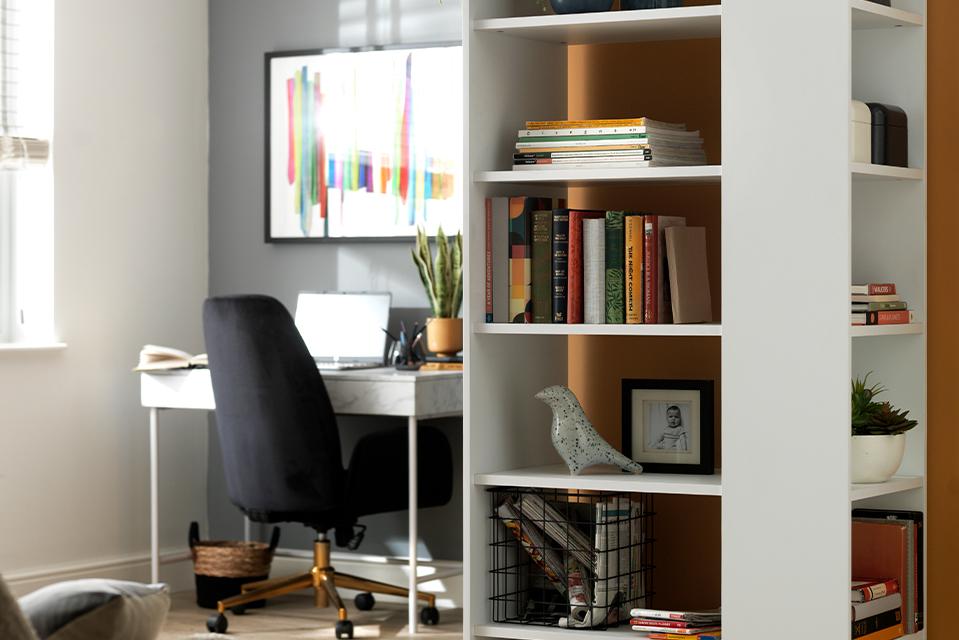 Backdrop of books
Mix up your books to create more interest, maybe lay some vertically and horizontally to make the overall look more interesting. Colour co-ordinating your books can look fantastic if you have the time, but even mixing varying heights together can create a more dramatic look.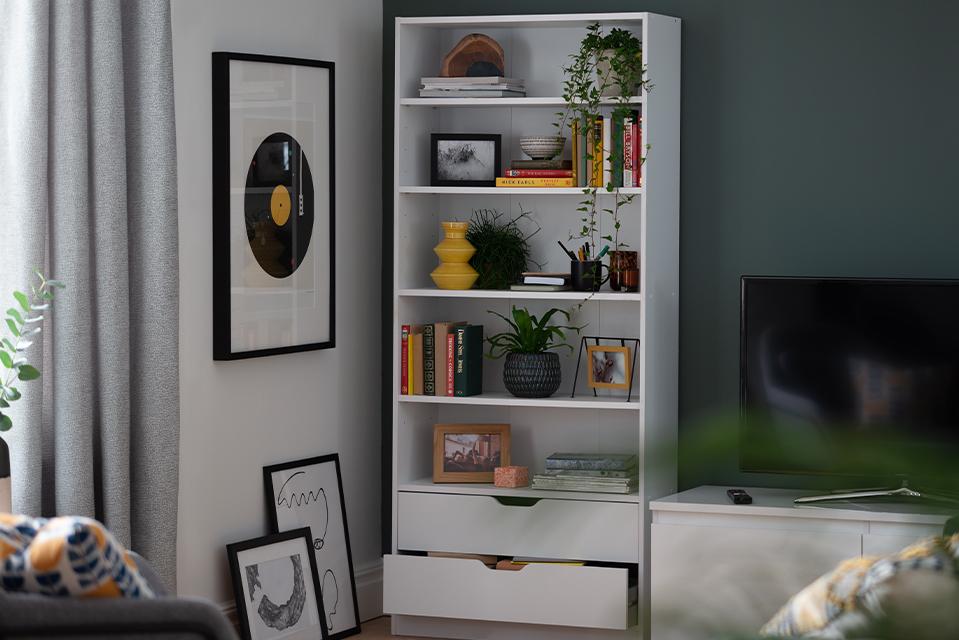 Shelf interest
A bookshelf is not just for books, use it to show off your personality and have a look at our vases, objects and artwork to add visual interest. If you have an open bookcase but you have got things you want to hide you can always use storage jars and baskets to conceal mess away.
Float some shelves
Lift-off! With the help of a few floating shelves, you can quickly turn a bland and boring wall into a museum for your things.
Other considerations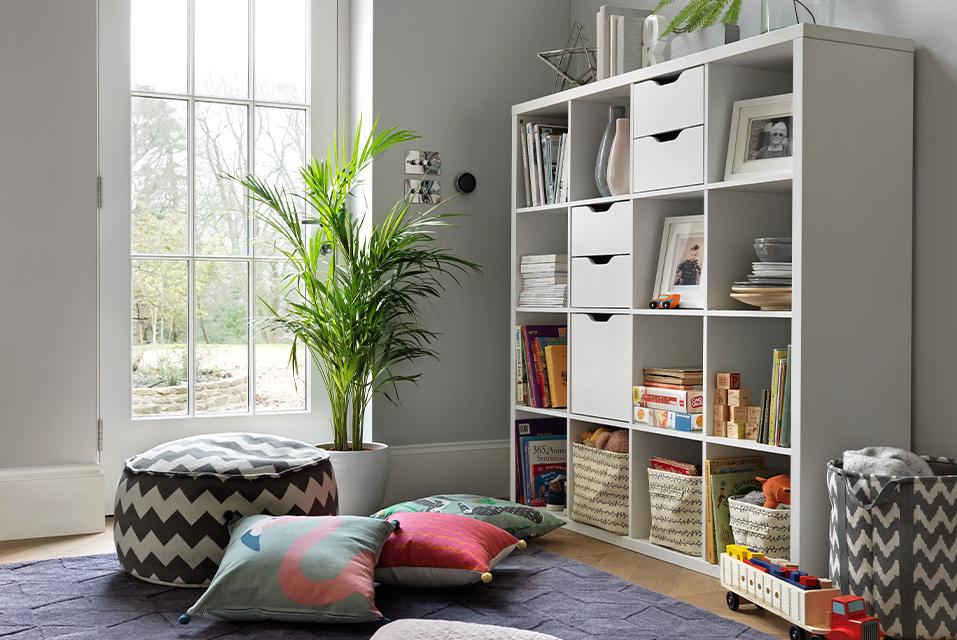 Measure up
Ensure you measure the height, width and depth of the space that you want the piece of furniture to sit in. Also think about what you want to store on the shelves. If you have something specific you are looking to show off on your bookcase it would also be worth measuring this, so you can make sure it fits before you get the item home.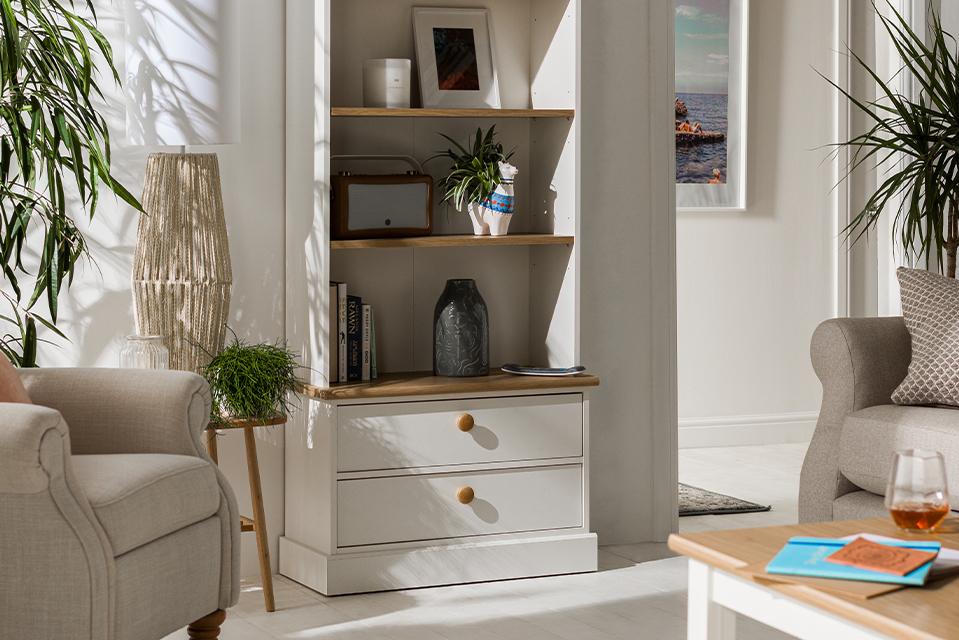 Shelf care
At Habitat, we advise all bookcases and shelving units are fitted with a wall strap, this is for safety reasons. Current law states that any storage/drawer units higher than 60cm tall must be attached to the wall. Children in particular can be in danger if climbing on a product or hanging off a drawer if the product is not secured in a proper way.
Looking for more ideas?
Why buy at Habitat?