Christmas hosting
Helping you host a holly jolly Christmas.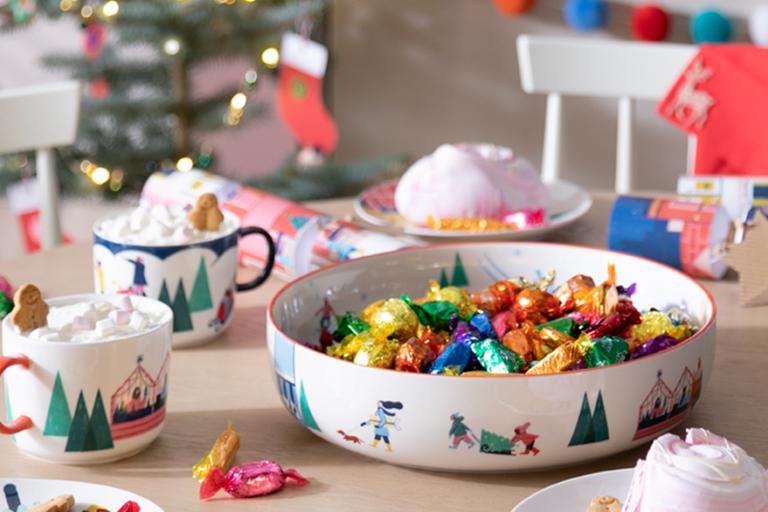 6 hosting tips by Johnny Roxburgh
This Christmas, we've joined forces with Party Architect to the Royals, Johnny Roxburgh, to reveal his expert hosting advice.
1. Distinctive Door Décor
What better way for a host to make an impact right from the outset. Get creative with your wreaths which will leave guests wowed before they've even set foot inside. A faux wreath is a warm welcome, without the maintenance or expense of a real one each year. Style it up with bright mini baubles, lights and red velvet ribbon; then hang it to the very top of the door using drawing pins so all the decorations dangle gracefully. Effortless elegance.
2. Multi-coloured lights are back
People normally steer clear of coloured lights but sometimes, too much harsh white light can end up looking a bit clinical and tired. An easy way to add festive flair to your setting, they also give your outdoors a 'retro' Christmas feel that even a Who from Whovillle would be jealous of. Last year, I dressed my huge olive tree in my front garden with sparkly multi-coloured lights in glorious 50s colours. It looked so cheerful, and I like to think it put a smile on people's faces on those bleak days last winter.
3. Go Faux
I would usually gasp at the thought of a faux tree, but I have seen a huge rise in popularity amongst my clients for these over the last two years. Forget complex hoover manoeuvres before guests arrive, artificial trees don't drop needles or create a mess and can be used again and again.
4. Novelty is the new 'retro'
It used to be seen as gauche or passé for anything novelty, but times are changing and anything vintage is now seen as retro nostalgia. Novelty plates, serving platters and mugs for hot drinks are fabulously full of character.
5. Never put the tree in a corner
Make the most of your space! At one celebrity party I worked on we used a faux silver tree which shimmered and reflected beautifully in the light. This also works well in a small space; a normal tree might swamp the room, but this will fill the room with light and glitter when dressed with fairy lights and decorations. Alternatively, a simple, elegant wooden Christmas tree will look marvellous and is great for young families who want to avoid clutter.
6. Don't sit couples together
A good host will always have a seating plan. I never understand why partners, husbands and wives insist on sitting next to each other at the table. We see each other all the time! Christmas is a time for mingling, so sit couples separately. A long, narrow table is a great option so that there's no shouting over one another and you can talk to people opposite (great if you're not over the moon with who you're sitting next to). Lots of my celebrity clients love a u-shaped table (easily recreate at home with three tables from around the house) as it makes it easy to clear plates without the awkward shuffle behind guests. It also creates a performance space for after-dinner games.
Christmas dinner & dining
Christmas dinner cookware
Christmas dinner doesn't have to be a stressful ordeal. Get organised with all the kit to fit your festive feast. Are there any sides you can prep before the big day or dishes that can spend the morning simmering?
Christmas drinks
Glistening glassware
Impress guests with your special occasion glassware. Drinks feel so much fancier when poured into a posh glass!
Tipple trolleys
Sip on something sparkling or toast with a Christmassy cocktail, a drinks trolley is a great alternative to a bar if you're hosting a festive get together.
Boxing Day buffet
Platters & sharing boards
Boxing Day feasts call for a buffet of picky bits. Let guests help themselves to cheese platters, charcuterie boards, finger foods and bowls of nibbles.
Food storage
Don't let Christmas dinner leftovers go to waste. Store them away and keep them fresh for Boxing Day or the day after and rustle up a bubble and squeak, a pie or even a festive mac 'n' cheese.
Getting ready for guests
Christmas bedding
Whether it's for you or your guests, Christmassy bedding is ultimate festive cosiness you'll want to curl up in.
Guest beds
From space-saving stackable beds to transforming sofa beds, we've got your sleeping solutions sussed.
Cushions & throws
Scatter seasonal comfort about the house for extra festive touches.
Top hosting tips, stories and more from best-loved influencers
This festive season we are taking hosting hints from the best. Some of our favourite Instagram influencers have been making the most of our tabletop, cookshop and Christmas decorations this year.
Go colourful with Sallyanne @rutlandgirlfashionstyle
Not all Christmas's are white 💙
I had so much joy creating this festive tablescape with so much to choose from @habitatuk , think beautiful crockery to coloured glassware to pretty baubles. Everything you need to host this Christmas.
I decided on a blue theme which lends itself beautifully to thistles I love to have around the house this time of the year. Staying with theme I used spruce & eucalyptus around this cake stand to create a simple, but effective table centre piece to add height & interest but will also allow conversation to flow above it. Settled amongst the branches above are the same coloured baubles I've used on the table, blue, green & a little gold shimmer to catch the light ✨💚💙
It's being to look a lot like Christmas…
Get rustic chic with Lisa @loft208
I'll be hosting Christmas this year at the Loft (I am sooooo excited to have my family round 🎄🥳🥂) The new Habitat Christmas & winter collections have made it so simple to set up a Christmas table.
Here are a couple of my tips when creating a Christmas table and hosting.
Simple foliage for a Christmas centre piece is always an inexpensive way to decorate your table and adds a little bit of wow.
Opt for neutral, timeless, high quality tableware which can then be enjoyed year after year.
A drinks trolley just adds a little something special when your hosting. A few cheeky cocktails with your guests before dinner is just a must 😜🥂
The new Christmas & winter collections are now available both online @habitatuk Argos and selected Sainsbury's stores nationwide.
Keep it mellow with Shade @_homeofshade
Who's coming over for dinner? 😋I know!! Everything is STUNNING! @habitatuk have smashed it this year with their festive homeware. I went with a mellow and neutral theme (you know me) but they have lots of fun and quirky designs if that's more up your street. As expected, I'm impressed with the quality. To top it off, Habitat are being more conscious to create items for us that we can use year after year during the festive season.

I wanted to share two of my top tips when it comes to hosting. Number one - I tend to cook meals I've practiced before so there are no nasty surprises on the day! Number two - I usually make my dessert in advance of the meal. Sometimes even a couple of days before depending on the type. You want to spend time with your friends and family so don't end up in the kitchen all night!

Head over to my stories to find a link to shop the @habitatuk range 😍 The collections are available online at Habitat & Argos as well as in selected Sainsbury's stores.
More Christmas
Why buy at Habitat?