Cookware, kitchen utensils & gadgets
Let's get recipe-making ready.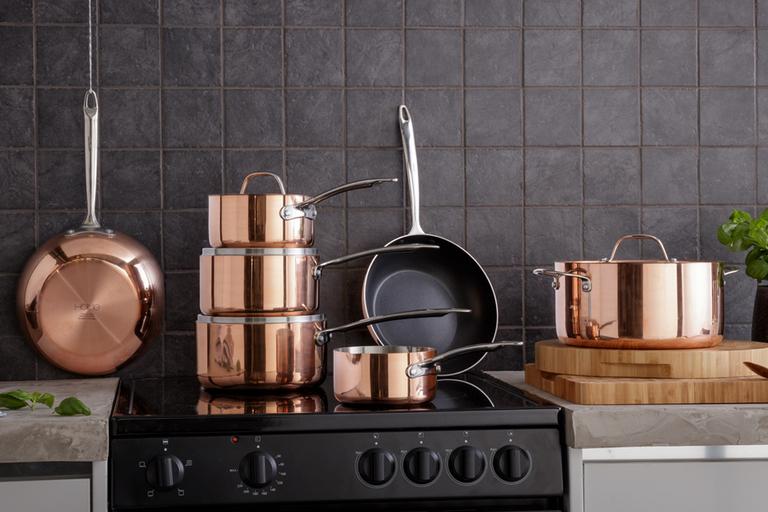 Chop, dice, stir and fry. Whether you're whipping up some classic comfort food or a three-courser for your close friends, we've served up everything you need to know about our kitchen kit so you're ready to cook up a storm.
On the hob
Woks
Typically used in Asian cooking, its domed shape spreads heat evenly for quicker cooking. It also makes it easier to toss and mix (watch out Jamie Oliver!). Ideal for stir fry's, but really you can use it for anything.
Frying pans
Best for browning, searing or frying foods. Flip a pancake, soften some onions, or go for a full fry up. Feeling hungry yet?
Sauté pans
Similar size as a frying pan but deeper. High sides hold saucy dishes like curry's and bolognaises but are also superb for shallow-frying and poaching. The larger base suits searing, pan-frying and braising. What can't it do?
Materials
Copper & copper tri-ply
Boasting speedy response times to temperature changes - heating quickly and evenly and cooling quickly when removed from the heat.
As copper shouldn't be ingested, they're lined with non-toxic metal such as stainless steel or tin.
Tri-ply are constructed from heavy gauge aluminium, with a layer of stainless steel on one side and a layer of copper on the outer side. This pan type is extremely durable.
Stainless steel
Made of sturdy stuff - it will last and last and last.
Higher quality stainless steel, or those that have a copper or aluminium base distributes heat much better than lower quality stainless steel. We can assure you, you're only getting top-notch stuff from us.
It's also non-reactive with food. That's reassuring!
Aluminium
An affordable and great option for cooking newbies (we're looking at you students).
This easy to clean, lightweight material is an excellent heat conductor and cooks your food evenly.
The only caveat is that as it's a softer metal, it's not as long lasting or suitable for very hot temperatures as other materials. We can't all be perfect.
In the oven
Oven to tableware
The washer-uppers will be happy! Not only do they reduce washing up but they keep food hotter for longer too. Pop on a table so hungry guests can help themselves. Place them on a trivet to protect your table - char marks are not invited. We have a variety of designs, all suitable for up to 180 degrees.
Stock pots
A deep pan sporting two handles and a lid. Best used for soups, stews and broths, but there are no rules against using it to boil pasta or potatoes too. So, fill you boots (and bellies).
The prep zone
Food prep takes a huge chunk of cooking time. Use tools to make it quicker and easier so you can start the fun bit sooner. Chopping boards that double as cheese boards and savvy space saving utensils, our range does more than what it says on the tin.
Still feeling peckish?
Why buy at Argos?