Dining table ideas
Bye-bye TV tray. We've got your dining destination sorted.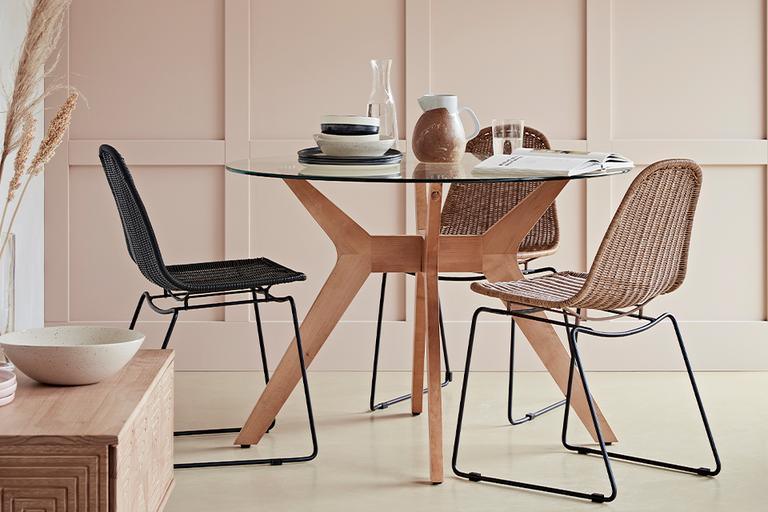 Table talk
Whether it's nibbles with friends, family gatherings or enjoying a cup of tea whilst reading the paper, a dining table is central to a busy home and the perfect breakfast, lunch, and dinner companion. At Habitat, we sell tables in all shapes and sizes, so there's plenty of room for everyone.
Select a shape
Square dining tables
Square tables work best in square spaces. Plus, they slide snuggly against a wall when you only have a party of two.
Round dining tables
Round tables seat more people than a square. They also make it easier to hold conversation and share food.
Rectangular dining tables
Rectangular tables offer the most surface area and can be used to carve out an area to eat in a long, narrow room.
Oval dining tables
Oval tables are like rectangular ones but take up far less space. Also, with no corners to get in the way, you can squeeze in more seats.
Different types of table
Tables that extend to accommodate more guests
If you enjoy entertaining but are short on space, then an extendable table may be just what you need. This type of table extends when you need it and retracts when you don't.
Tables with drop leaf sides
Our drop leaf dining tables have hinged outer sections that raise and lower to give you more space. They're great for homes that only have one or two people living there.
Fixed dining tables
Available in different sizes and shapes, fixed dining tables are ones that don't extend so make sure you get one big enough to fit all your guests.
Dining sets
Need seating to match? Don't worry - you can find the perfect pairing of dining table, chairs and benches in our dining set range.
Made for mealtimes
Habitat dining tables are designed to last. The material and techniques we use are tried and tested so your table will look good and function well for many years.
Natural beauty
Available in oak, ash, beech, walnut and pine, our wooden dining tables age well over time. Each piece has its own unique characteristics in colour, grain and durability.
A clear choice
Our glass-topped tables will brighten even the darkest of rooms. Not only are they easy to clean, but their translucent tops make rooms appear bigger and brighter.
Take a seat
Dining chairs
From bold and colourful to pared-back, we have a wide range of chairs to complement your table. In need of some styling inspiration? Consider choosing a set of dining chairs in various colours for a quirky, mismatched look. Or, keep to one colour but experiment with a contrasting material to avoid a look that is too matchy-matchy.
Dining benches
Dining benches are more flexible than individual seats because they can accommodate more people. Plus, they can be conveniently tucked under the table when not in use to save space. Besides seating, benches can also double as a temporary tables for placing books, plants and accessories on.
Other considerations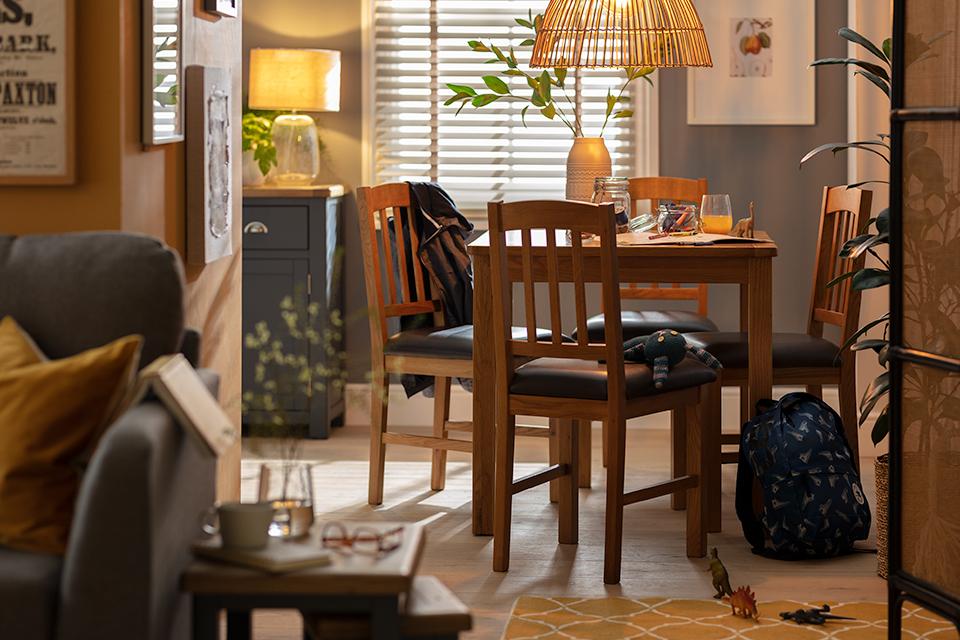 Buying a table
Before you buy a new table for your home, consider the following.
How much space do you have?
Have a look at your room and the furniture that will surround your dining table. Measuring the length and width of your table is important to ensure your chairs fit comfortably in your area. Remember to leave space for manoeuvring in and out, particularly if your set up is close to a wall.
How many seats do you need?
We've got designs ranging from 2-seaters all the way to 8-seaters, so work out how many people will be sat around the dinner table daily. 2-4 seaters are ideal if you're pushed for space, whilst 4-6 seater tables are great for extra guests.
Table height
Most tables are 29" to 30" high. If you choose something lower, make sure you pair it with similarly proportioned chairs or benches.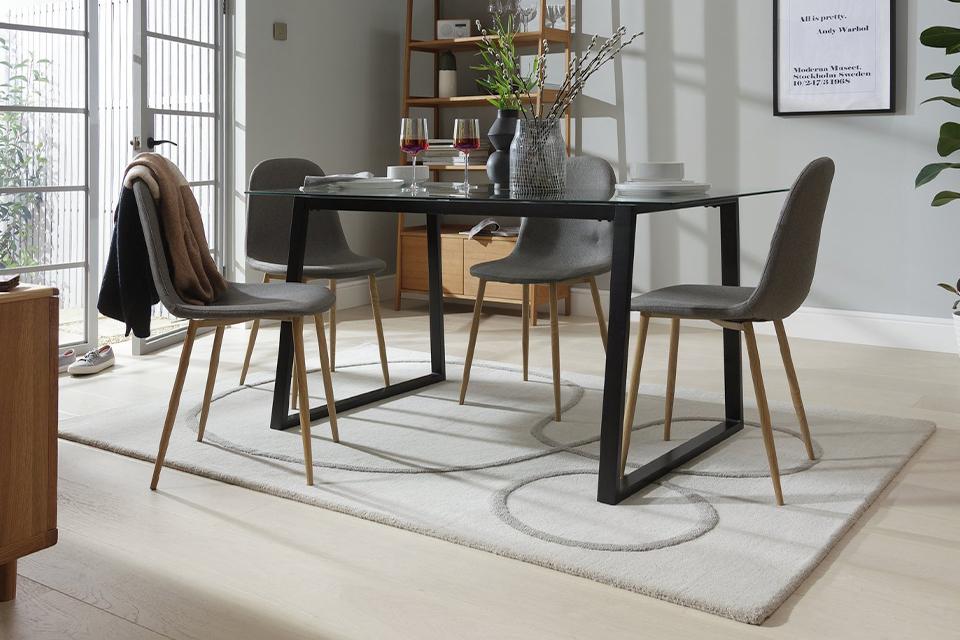 Aftercare
Dust regularly with a clean dry cloth.
Repeat this procedure for periodic cleaning.
Remove stubborn stains with a weak washing up liquid solution and a damp cloth and dry after with a clean cloth.
The use of furniture polish or spray is not necessary or recommended.
Never use abrasive or corrosive cleaning agents.
Always use placemats and coasters to protect the surface from moisture and heat.
Delish dinnerware
So you've got the table picked out. Now it's time to complete the look with contemporary cutlery and dinnerware. We have a whole host of coordinated sets as well as fine dining cutlery and glassware. There is always new stuff coming in our collection so it's worth checking the website if you fancy a quick update for a special occasion or – just because!
More entertaining essentials
Why buy at Habitat?