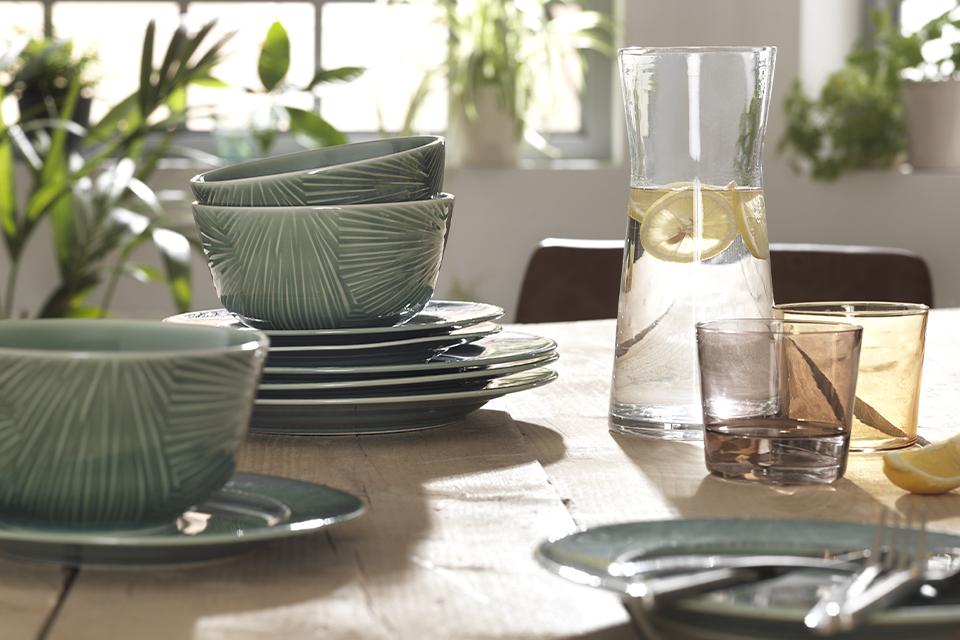 Wine and dine
Want to do your culinary creations justice, then you'll need the right plates, bowls and glassware to match. At Habitat, we cater for all types of occasions, big or small, extravagant or everyday. So whether you need something formal or fancy, you are certain to find the perfect set for your dining needs.
Choosing dinnerware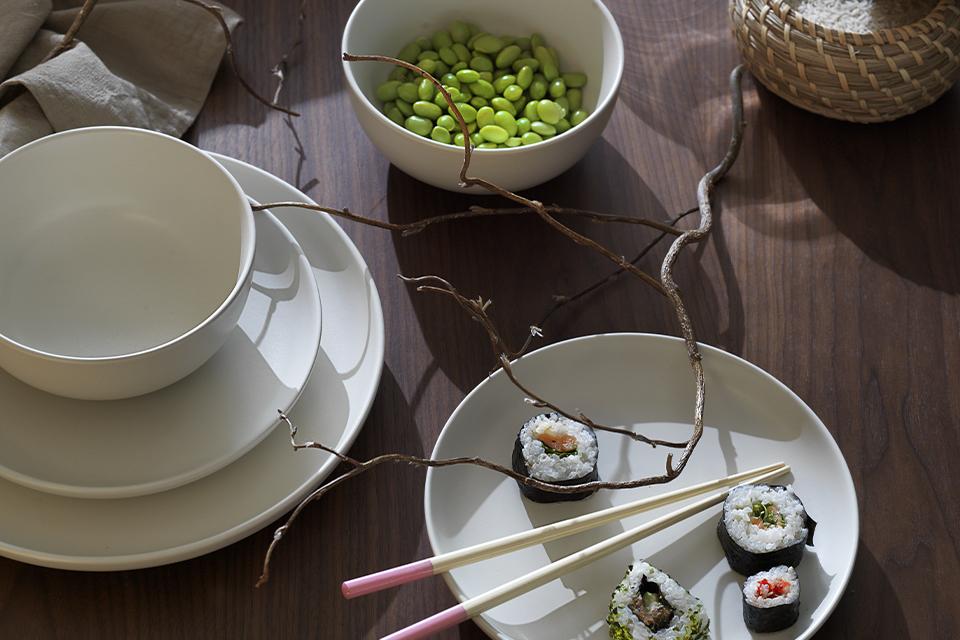 Time to plate up!
Having a top-quality dinnerware set is a must, especially if you're big into presentation. And, in our opinion, one that serves both special occasions and everyday meals is a real plus.

Our dinnerware is available in a wide array of shapes, styles and colours and can be purchased in sets or separately (if you're the type who likes to mix and match). There are many different bright shades to choose from, as well as more classic, muted colours for those who prefer a less is more look.

Many of our hand painted pieces are glazed to achieve a textural effect, meaning no two products are exactly the same.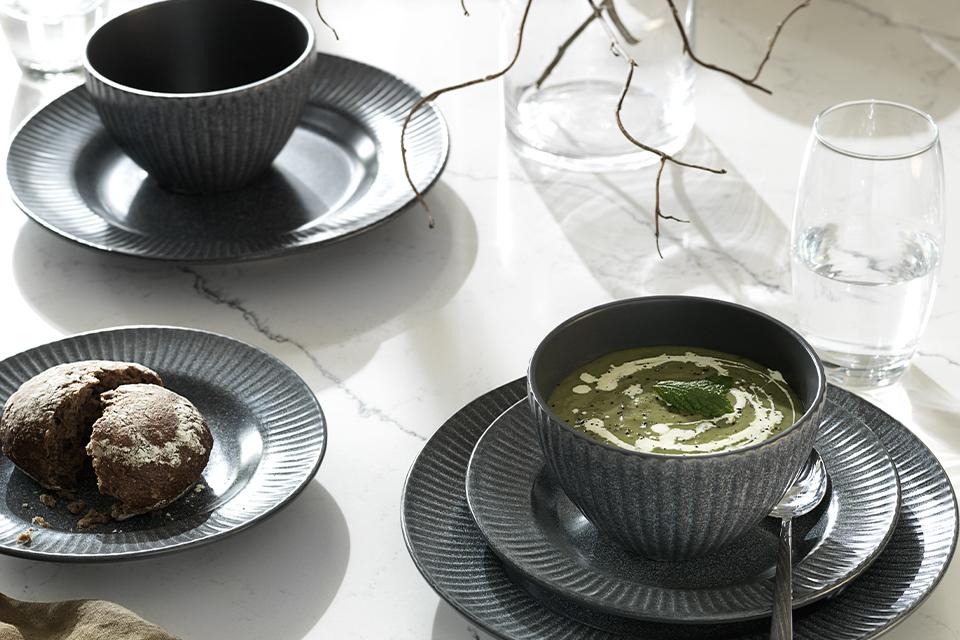 Different types of dinnerware materials
When deciding on a material for your dishes, ask yourself what you'll be using them for. Do you want something simple that you can eat off every day? Or are you after a more formal set for special occasions?

Earthenware - For everyday use, earthenware is a smart, affordable choice. Although not as tough as stoneware, earthenware can be strengthened by glazing.

Stoneware - Dinnerware made of stoneware has a rustic, hearty feel. It is usually a little heavier and thicker than porcelain and bone china, but does not have the same strength.

Bone china - Known for its whiteness and translucency, bone china tends to have a more formal look than earthenware or stoneware. It is less easy to chip and, despite its delicate appearance, is very strong.

Porcelain - This type of dinnerware is fired at a very high temperature, making it tough and durable yet lightweight enough to feel comfortable in your hand. Like bone china, it is ideal for formal dining but it needn't only be reserved for special occasions.
Choosing glassware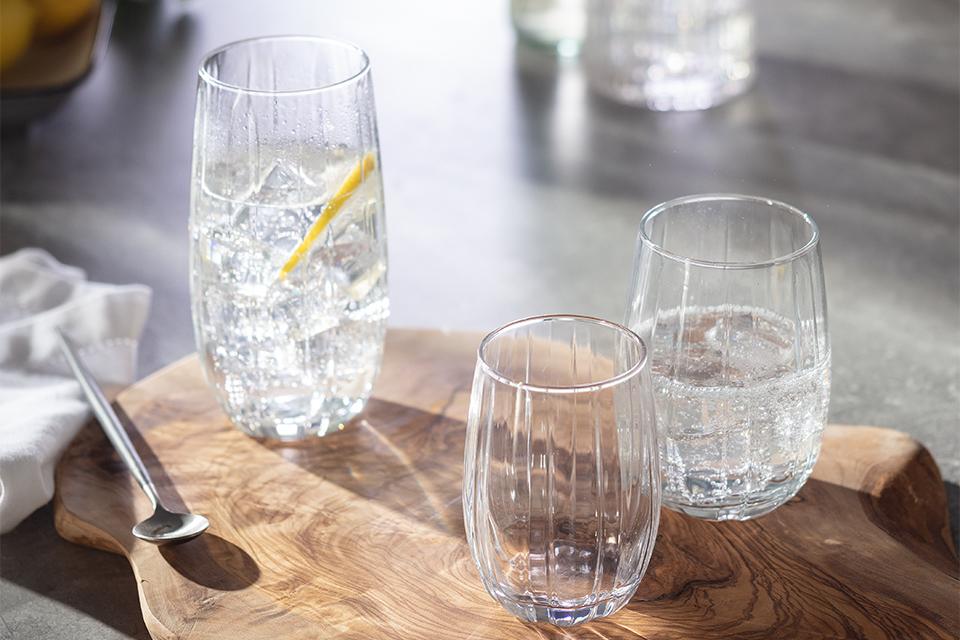 Swirl, sip, repeat
Whether you're starting afresh or simply adding to your collection, glassware is a necessity for your home. But which glass should you use for which drink? Check out our handy tips below.

Tumblers - Small in capacity, they're perfect for water, squash and juice. They're also well suited for short cocktails such as caipirinhas and negronis.

High-ball glasses - Also ideal for water and soft drinks, high-ball glasses are great for gin and tonics, mojitos and wine spritzers and can be used for more formal and informal dining settings.

Wine glasses - With or without stems, wine glasses are characterised down into white wine, red wine, burgundy, water and champagne glasses. Whichever you go for depends on your own individual style and needs.

Stemware capacities range from 19 to 20cl for champagne flutes and go up to 58cl for a burgundy glass.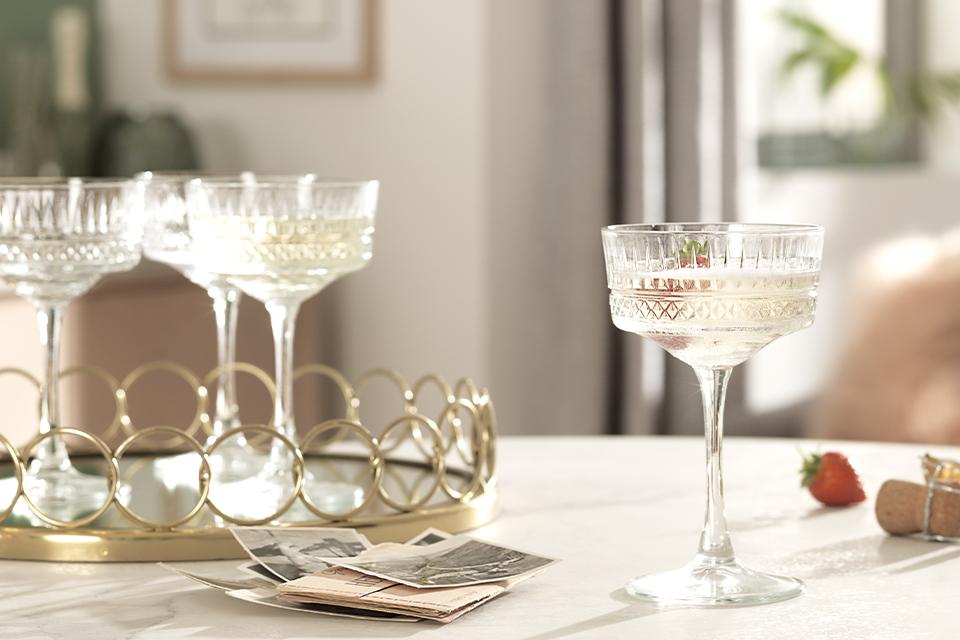 Types of glasses
Machine made or mouth blown? Glassware can be made from various types of glass, each with its own distinct look and qualities.

Soda-lime glass - Typically used for everyday glassware, soda-lime is a relatively inexpensive raw material that can be decorated with decals or screen-printed.

Crystalline glass - This has the strength and clarity of crystalline that makes it comparable to crystal, but without the inclusions of lead.

SON.hy® glass - A high-tech crystal glass that's transparent and ultra-clear. The material is highly resistant to breakage and is created using an eco-friendly melting process.

SPARKX® ultra-clear glass - This transparent material is durable and resistant to over 2,000 industrial washing cycles and is eco-friendly in its creation.
Caring for your glassware
To keep your glasses chip-free for longer, avoid stacking them inside each other and avoid storing them upside down. Handwashing is the safest way to clean stemmed glasses. Wash them in warm soapy water before rinsing, and either leave to air dry or wipe with a lint-free cloth. Most of our tumblers are dishwasher safe, but please check the 'Care Instructions' for each individual product as there may be some exceptions.
Entertaining extras
Why buy at Habitat?