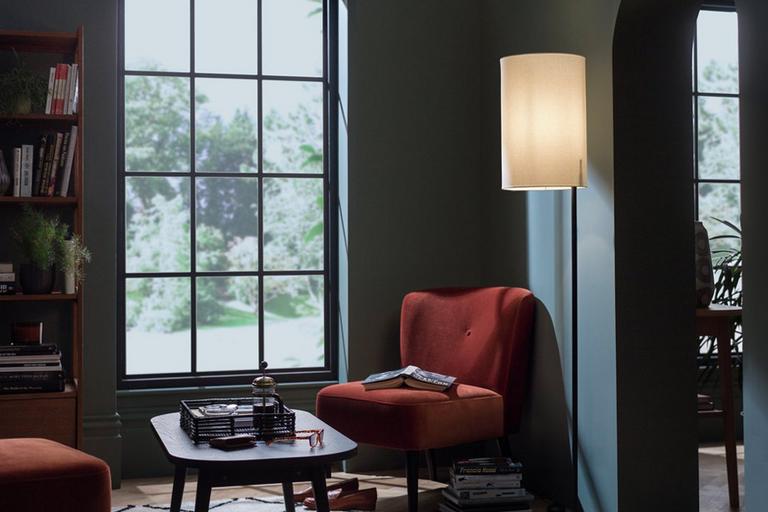 Here we glow
Whether complete as base and shade, or as a base for you to finish with your own choice of shade, floor lamps make a stand.
From simple standard lamps and variations on the traditional tripod lamp to oversized and overreach lamps, and spotlights, our floor lamps are available in a variety of styles to provide light for reading or add a warm glow to a space.
Looking for inspiration? Let us light the way!
Leading lights - our top rated floor lamps
Glow up with these 6 standing lamp styles
Spotlight floor lamps
Spotlight lamps provide a do-it-all style of lighting. They can accent, they can brighten, or they can be placed beside a bed or chair for focused reading.
Lamps with shelves
Kitted out with open shelves, these floor lamps are versatile workers that are at home in living rooms, dining rooms, bedrooms and more.
Industrial floor lamps
A striped-back style. Industrial lamps work especially well in open-plan settings and rooms with interesting structural features like exposed brickwork and high ceilings.
Arc floor lamps
Arc designs are a real eye catcher. They look great hung over a sofa or sectional, emitting a soft glow that sets the mood for relaxation.
Tripod floor lamps
In a study, home studio or hallway, a traditional tripod lamp is perfect for adding some focused light to allow you to see what you're doing and where you're going.
Statement floor lamps
A lamp like this is not just an object of illumination, it's a feature piece. Position around the edge of a room to transform a dark, awkward corner into something chic.
Lamp shades to complement your floor lamps
Velvet and silk lamp shades
Bring a luxe glow to your room with these velvet and silk lamp shades. The opaque fabric creates a soft, warm radiance. What a beautiful way to set the mood, simply kick back and relax. Feeling cosy yet?
Patterned lamp shades
Want your floor lamp to turn heads during the day as well as night? Printed lamp shades are the answer. Whether switched on or off, these playful patterns bring a pop of cheerful charm to your space.
Don't forget a light bulb
It's what's inside that counts
How to make the most of your new floor lamp? Pick the best bulb to complement it. The bulb is essential to creating just the right ambience. From dimmable bulbs to decorative bulbs and even energy saving LEDs, we've got them all covered. Simply take your pick and you'll be good to glow in no time.
Get the right light. Before you choose one, check the wattage, size and fitting type to make sure it's compatible with your floor lamp and shade.
A little light reading
Why buy at Habitat?