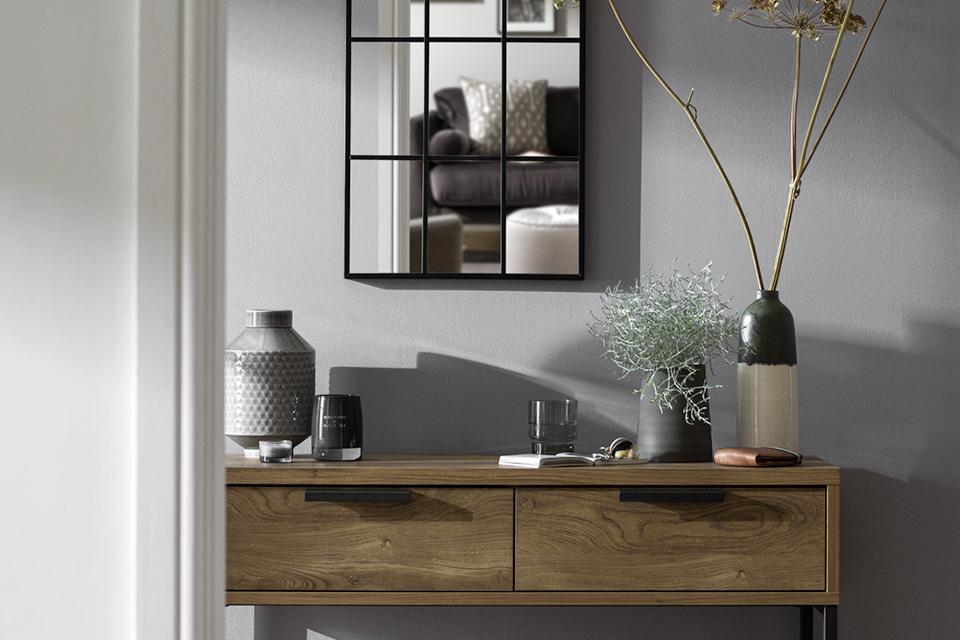 Making an entrance
The hallway is often one of the most neglected areas in your home. It becomes a dumping ground for coats, shoes, posts, keys and all other general items. But, as it's the first room you, and your guests, see upon entering the house, it's an area worth investing some time and thought in, no matter how little space you've got to work with.

Follow our hallway tips below, and we promise your hallway will become an entrance to behold.
Decking out an entryway
Foot in the door
Tired of shoes piling up around the front door? Well then, it might be time to invest in some proper shoe storage. From wire racks and wooden cubbies to closed cabinets, there are storage solutions for shoes of all sizes and styles.
Console yourself
Console tables are a smart and stylish addition to any hallway and come in a variety of shapes and colours. Go for a dazzling design to provide a striking focal point in your hallway and finish it with a welcoming vase of fresh flowers.
Organising essentials
Say goodbye to the dreaded morning key hunt by designating a special spot in your hallway for the items you use daily. Try hanging one of our wall organisers near to your front door so that everything is in place for when you come and go.
Put baskets to work
Storage baskets and boxes are a great way to add some style and order to your space. Tuck them underneath your console table for added storage for your scarves, gloves, umbrella and other accessories.
Finishing touches
Rugs and runners
Add a rug or runner to your hallway to add texture and warmth. The light colours will keep your space feeling light and airy and will complement any neutral or colour-popping design schemes.
Candles
Candles are a great way to instantly add elegance and ambience to your hallway. They offer a warming glow and, if you invest in some scented candles, your home will smell great as soon as you walk through the door.
Mirrors
Mirrors can work wonders in a small hallway if placed in the correct spot – they can create light, space and character. They also reflect both natural and artificial light to amplify a sense of space.
More decorating ideas
Why buy at Habitat?