Home bar ideas
Night out without leaving the house? We'll drink to that!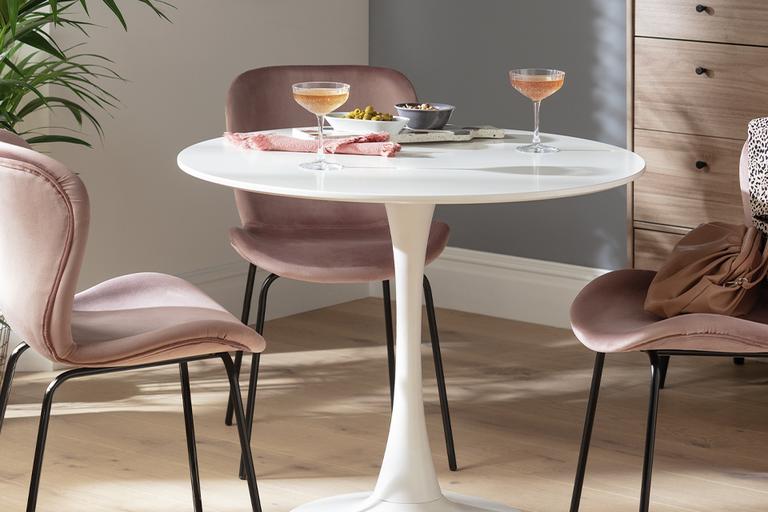 Pitcher perfect bars
Drinks trolley
A trolley for your tipples, how very retro! These have made a big come back recently and we hope they're here to stay. Use as a permanent display for your boozy bottles and drinkware, or wheel it out when things are feeling merry and roll it away when you've had your fill.
Sideboards & display cabinets
Dedicate a space for fancy glassware and boozy beverages. Keep 'the good stuff' and decorative bottles on display and tuck other less pretty stuff - like napkins and board games – out of sight. Display cabinets are great at showing off your special barware while keeping them behind closed doors.
Pull up a pew
Bar stools & cocktail chairs
Did someone order a round of comfort? Whether you're creating a speakeasy snug, countertop cocktail bar, laid back liquor lounge, or a man cave conversion, recline into our bar seating range. Sink, glass in hand, into a squishy cocktail chair or perch upon a padded bar stool moulded to cater to your comfort.
Clink, clink!
Glassware
Indulge your inner mixologist with some tasty glassware. Sip something tutti frutti from a tumbler, gossip over gin goblets or say cheers with fancy champagne flutes.
Garnish with...
Mood lighting menu
Add to the atmosphere with 'let-your-hair-down' lighting. We're talking dimly-lit pendants, tinted shades and accent lights. You're aiming for a glow that relaxes - don't kill the laidback vibe with vibrant and energetic options.
Take the party outside
Outdoor bar
On the rare occasion the British weather behaves, set up your own beer garden, create a courtyard cocktail bar, or transform your patio into a gin parlour. Cheers to that great idea!
Glass half empty?
Why buy at Habitat?