How to choose curtains
Considering new curtains? Don't be in the dark - discover our easy to follow tips and advice.
Shop curtains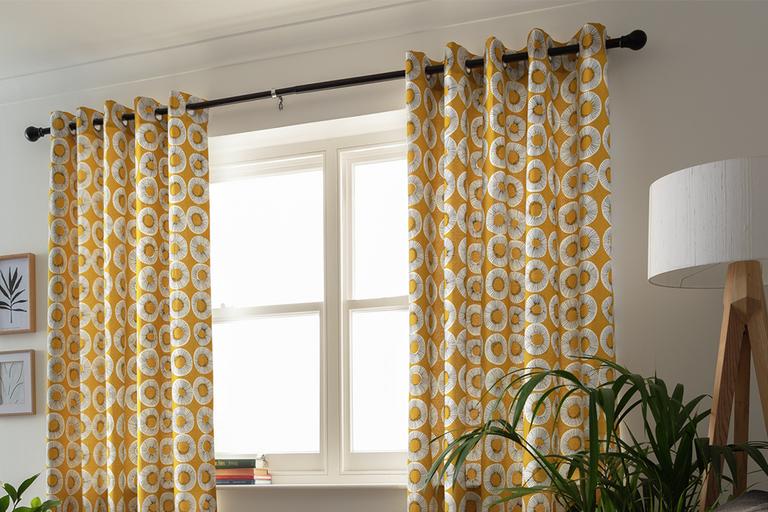 Not only do curtains help keep a room warmer in winter and cooler in summer, they protect your furniture from fading and offer privacy from neighbours. Whether for a living room, bedroom or kitchen, we're here to help you consider all the important points with this curtains buying guide, so you can be sure that you're on the right track.
Choose your curtain lining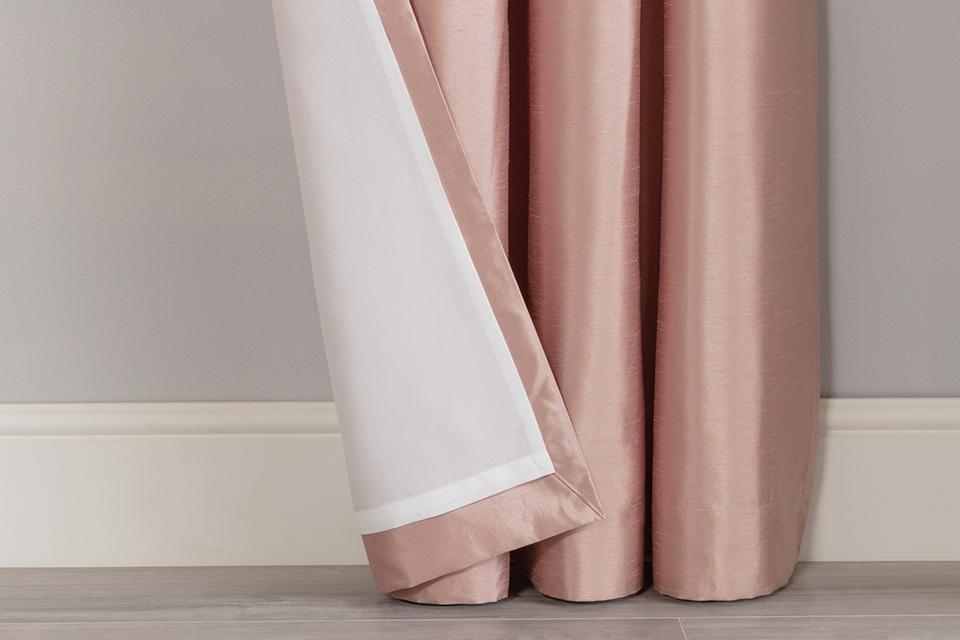 Which curtain type is best for your needs?

Blackout curtains
Our blackout curtains block out light fully and reduce noise, making them perfect for bedrooms. They're great for keeping rooms warm in winter and cool in summer.

Thermal curtains
Feel the chill? Our thermal curtains are experts at keeping out the cold and draughts.

Lined curtains
Lined curtains hang in soft, loose folds. They reduce the amount of light entering a room and prevent heat from escaping, as well as protecting the curtain from fading.

Unlined curtains
Ideal for summer or decorative purposes, our unlined curtains are usually sheer and will allow light through.
Decide your curtain colour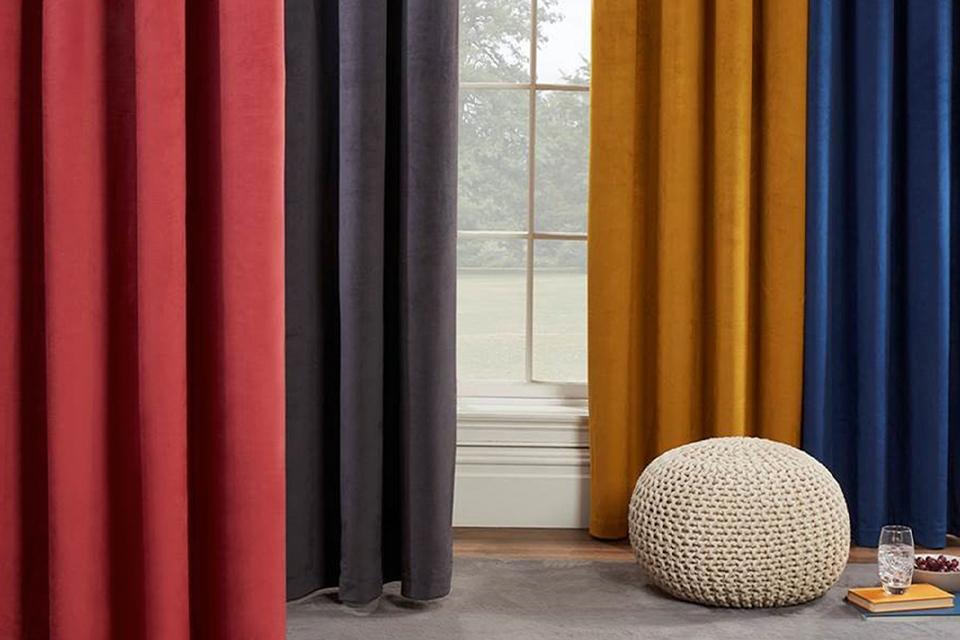 Make a statement or blend in?
The next decision is whether you'd like your curtains to blend into the interior or to make a statement with a bold print or colour. We have a whole rainbow of hues available, from velvet mustard curtains to green and pink curtains. Curtains are long-lasting, so take time to colour-match with your existing pieces or use this as an opportunity to think about an overhaul of your space with a completely new look.
Which curtains for which room?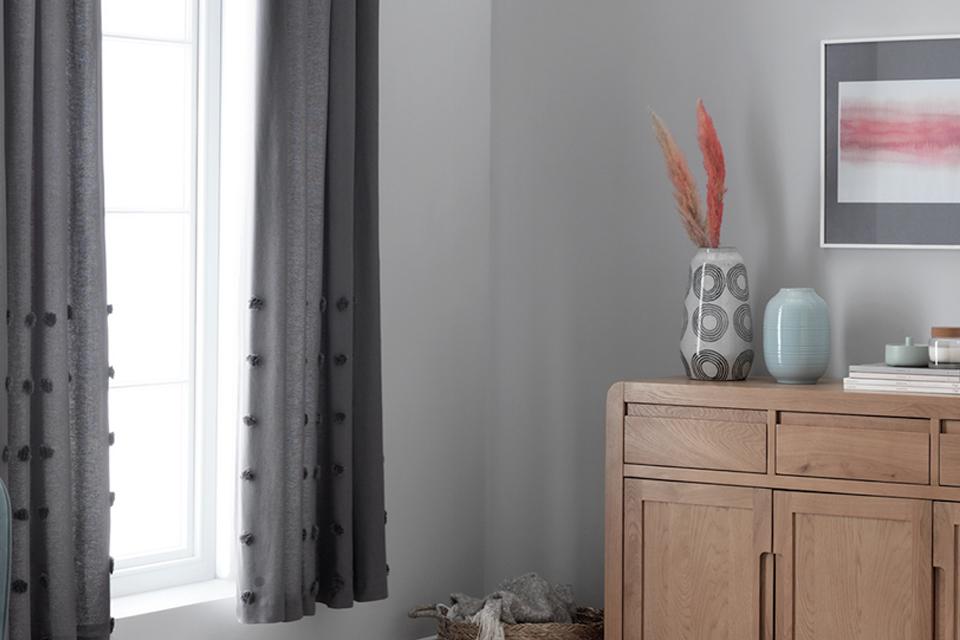 Bedroom curtains
Your bedroom is a place to relax and recharge, so help set the scene for a good night's sleep with blackout curtains to block out any light. A lifesaver in the lighter summer months.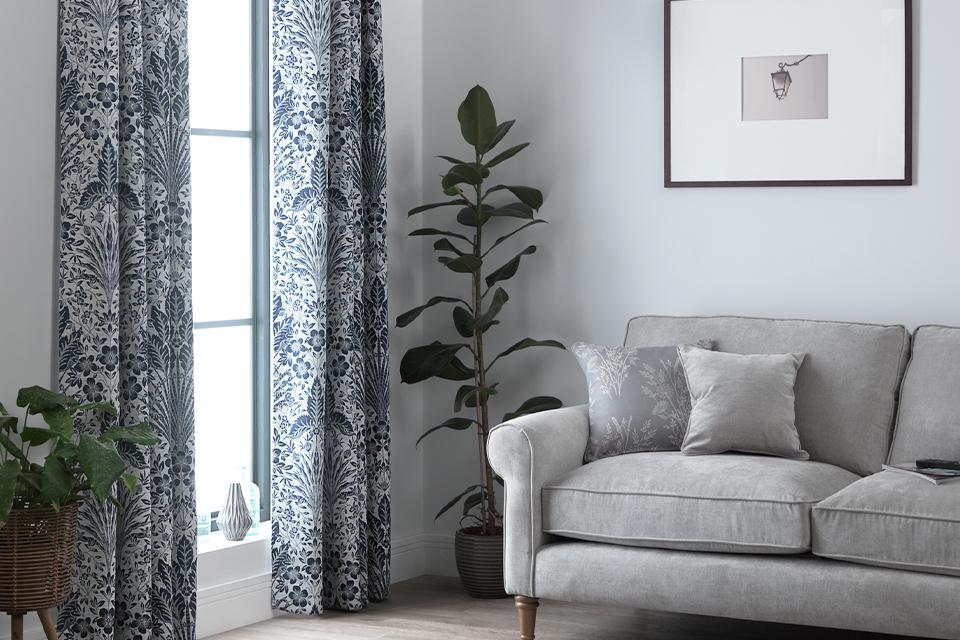 Living room curtains
Keep it cosy with lined curtains to block out any unwanted street lights. Style is key here so go for a pair that will complement the rest of the room.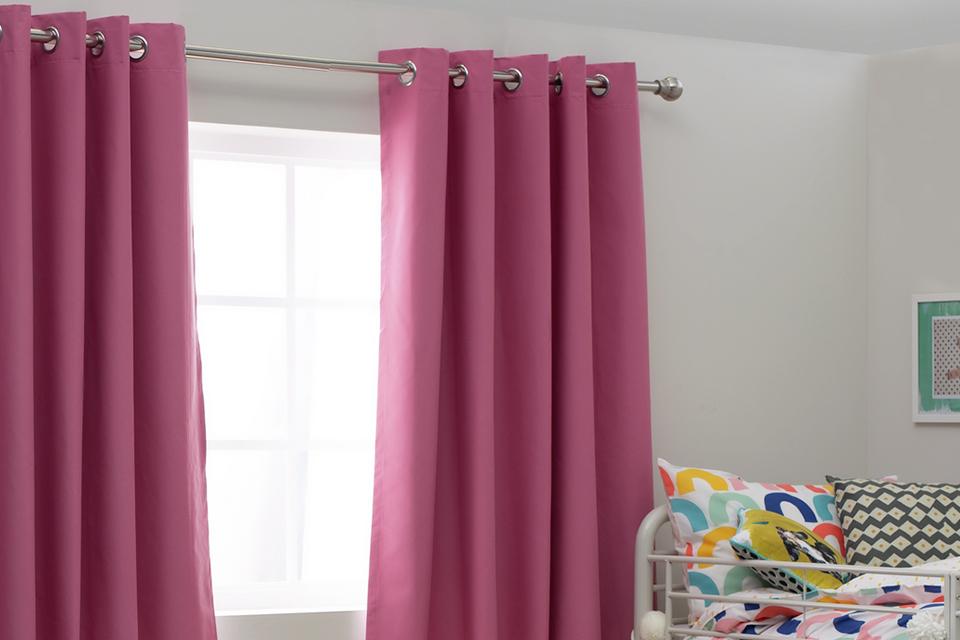 Kids bedroom curtains
Jazz up their bedrooms with curtains in bold colours and statement prints.
How to measure your curtains?
When it comes to curtains, size really matters. Follow our guide below to get your sizing just right.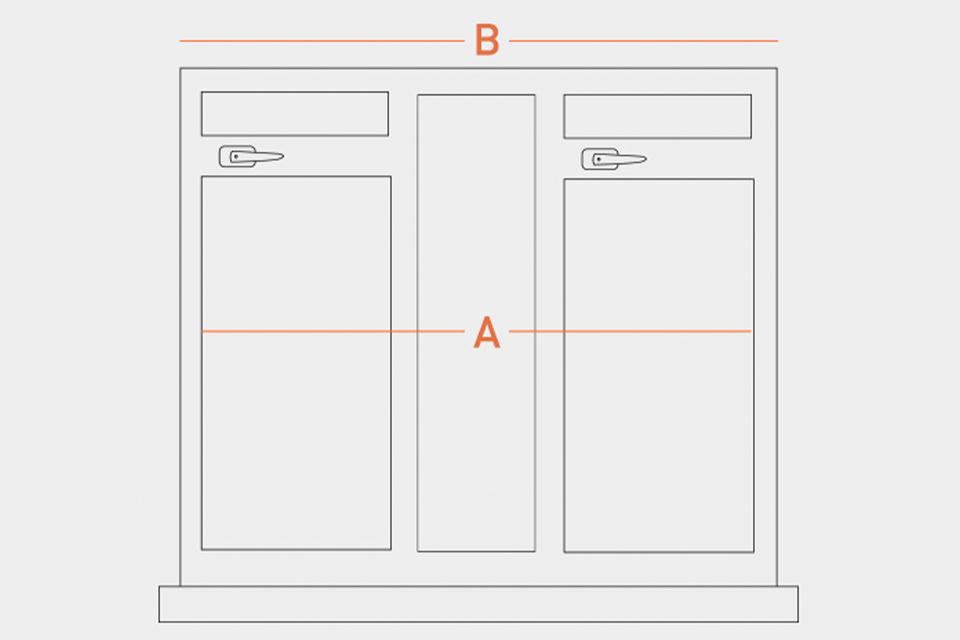 Measuring your curtain width
Think about where you want your curtains to sit in relation to the window.

Make sure to measure both inside (A) the window frame and out (B). Curtains will either hang from a track or a pole, and this will dictate the length of curtain you need. Be sure to measure the full length of the track and add on any overlapping area.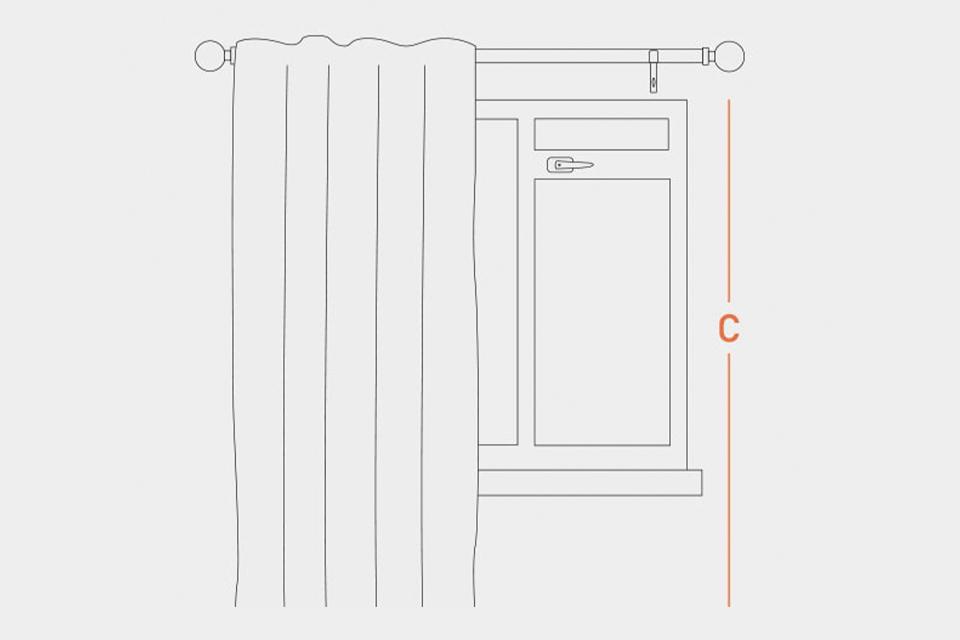 Measuring your curtain length
Make sure to check the drop lengths available in your chosen option.

Wondering where your curtains should drop to? We recommend:
Sill length curtains finish 1.25cm above the sill.
Curtains that fall below the sill finish 15cm below.
Floor length curtains finish 1.5cm from the floor unless you would like to create a romantic look by having them longer.
For curtains hanging from a pole, measure from the top of the frame to the floor (C) to get the full drop (ideally, they will be 2cm from the floor when hung.)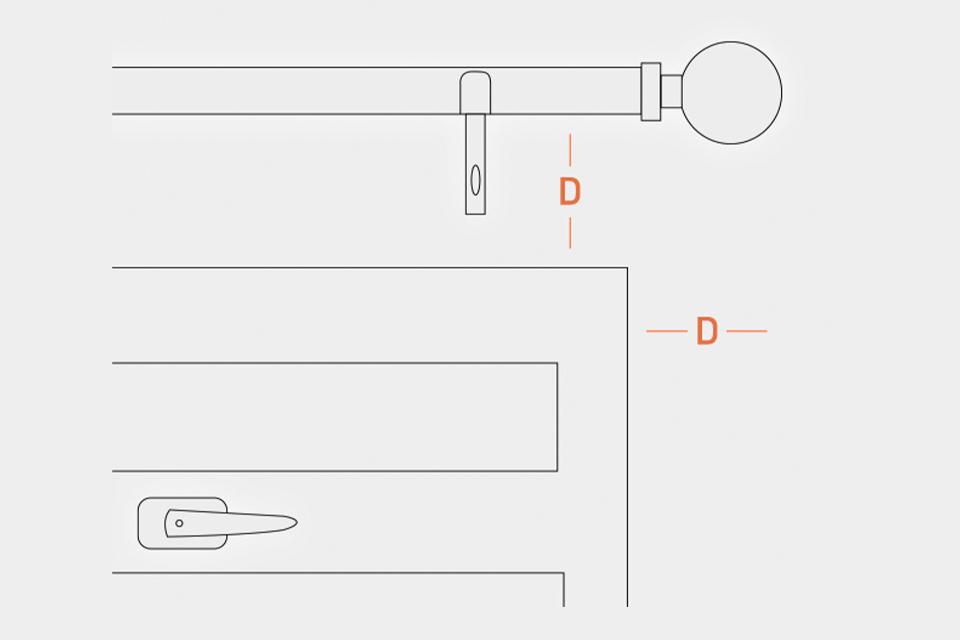 Measuring your curtain pole
The curtain pole should be wider than your windows by approximately 15-20cm either side (D), allowing for the material to be tied back when you'd like.

The current rule is that fabric width should be between 2 and 2.5 times the width of the window. So, for example, if your window is 1.5m wide, you need 3m width of curtain material.

Each of Habitat's curtain options are sold in pairs, so to explain a little further, if each curtain is 1.5m wide, equalling 3m in total, you'd have the perfect fit for a 1.5m window.
Choose your curtain heading
How your curtains attach to a pole or track will affect the drape and overall look of the curtains.
Eyelet curtains
These curtains have punched metal rings at the top which slide smoothly along a curtain pole. They hang in wide, even folds for a smart and stylish finish.
Pencil pleat curtains
Plastic hooks attached along the header of these curtains are used to attach to a track or pole. This gives them a ruched, gathered look with many folds.
Tab top curtains
With a header of evenly spaced fabric loops through which a curtain pole or rod can be threaded, this is a neat solution.
How to care for your curtains
If machine washable, clean a pair of curtains together. Habitat's cotton curtains usually need to be professionally dry cleaned, but linen curtains can usually be washed at 40 degrees and smoothed out with a medium iron. Be sure to check your curtain's care instructions beforehand.
More curtain ideas
Layer up
For added versatility you may want to consider layering curtains and blinds. In this instance, the blinds are ideal for blocking out unwanted light while the sheer curtains still provide privacy and allow light in when the blinds are open.
Go sheer
Perfect for daytime privacy while letting light in, our voile and net curtains are available in both plain or patterned styles to suit your taste.
Velvet touch
Add a touch of luxe to any room with our selection of velvet curtains. Choose from an array of colours and lengths.
Look to linen
Draping beautifully, our linen look curtains evoke comfort and luxury. They'll make any room feel lighter and airier, while also offering privacy and insulation. They're also super easy to take care of - what's not to love?
Go matchy matchy
Create a cohesive, pulled together look by matching the colour of your curtains to other bits and bobs in the room such as cushions and accessories.
More help and inspiration
Why buy at Habitat?