Living room lighting ideas
Shall we get glowing?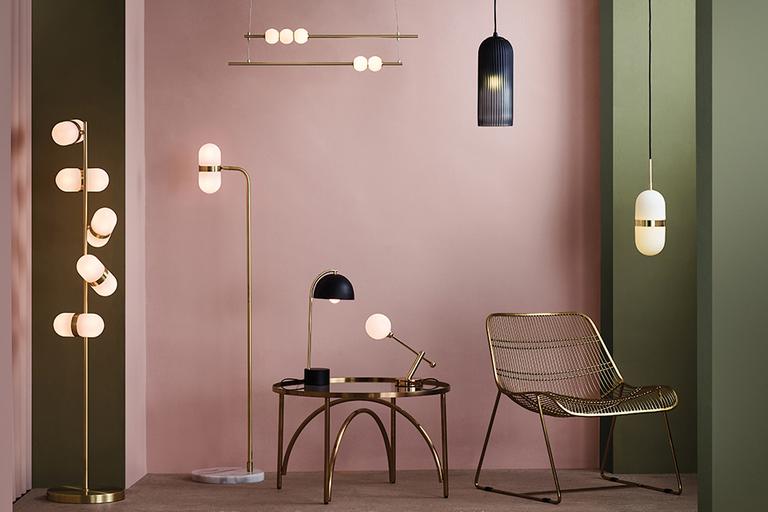 Did you know, ideally you need three layers of living room lighting which should all work harmoniously together to set the right atmosphere?
Ambient lighting – Gives a soft overall glow to the room.
Task lighting – Directs light to specific areas like work zones.
Accent lighting – Used to highlight areas or objects like a piece of art or feature and adds a touch of drama to the room.
A combo of these lighting types, cleverly positioned at different points, will bounce illumination throughout the room. Time to say bye to shadowy corners.
Living room ceiling lights
Pendants & chandeliers
These are 'look at me' lights to say the least. They have a job to do but look great while doing it. Drawing the eye upwards, they add depth to the room and are great conversation-starters. Just make sure your ceilings are high enough to prevent any head-banging accidents!
Spotlights
On the flip side, spotlights are more of a 'look at that' light. Not a light to be used when chilling in front of the TV, but they come in handy if your lounge doubles as an office or you need extra reading light.
Flush lights
A great option if you have low ceilings but still fancy a statement light. Practical doesn't have to be boring and these are certainly not a snooze-fest.
Living room lamps
The alpha of ambient lighting. Lamps have got the balancing act of calming and functional lighting down to a fine art. They give a gentle glow while you watch your show but are bright enough for you to read. Their designs are practically limitless making them exceptional for any space and room size. Need we say more?
Living room wall lights
Wall lights are a clever way to add a calming vibe to your living room if you're short on surface and floor space. Bathe the walls in a warm glow or illuminate your favourite piece of art with sleek spotlights. Ranging from on-trend extendable copper styles to minimalist linear designs, they tend to work best in a living room alongside other lighting.
What's all the rage?
Industrial lights
A style steamrolling through the interior design world, the industrial trend incorporates stripped back, raw materials you'd associate with old factories and warehouses to create an old-school urban feel. In terms of lighting, we're talking dome, umbrella or cage shapes in gunmetal grey, copper, or brass.
Glass lights
Glass shades are having a moment and we think they're worth the fuss. From crystal-clear glass to frosted, smoked or tinted for a diffused glow. They effortlessly radiate a retro, vintage feel – from sophisticated steampunk, to elegant boudoir – you'll be drawn to them like a moth to a flame.
Tripod lights
Looking fresh off a classic film set, tripod lamps are a statement piece for sure, and a bold way to shed light on your room. You're likely to need a tad more floor or surface space for these but they're totally worth it.
Exposed bulb lights
Let the bulb do the talking. Keep the fixture simple and make way for decorative bulbs. The squiggly coils of the filament are the design feature here, creating an industrial effect, radiating a retro feel or keeping things cosy.
Rattan lights
The bohemian theme is big at the mo. Add natural rattan lights (thank you Mother Nature) for a foolproof way to transform your room into a calm space. Indulge your free spirit with this laidback trend.
Animal lights
From man's best friend to tropical creatures, take a walk on the wild side with an animal light. Worn brass, metallic pewter or contemporary chrome, our animal light kingdom will feel at home in any space.
Lighting by living room size
Small living room lighting ideas
For tight spaces, look to floor lamps with a straight-up-and-down style and a smaller base.
Light up all four corners of the room with cleverly positioned lights.
Opt for lighting with a lightweight appearance as heavier looking pieces can shrink a space. Tripod table lamps or slim stem styles are perfect, making the area seem more open.
Use vertical light beams as they take up less space.
As weird as it sounds, short pendants can create the illusion of height.
Follow these top tips and your living room will look and feel bigger, promise!
Large living room lighting ideas
A spacious lounge is the perfect excuse to rock a statement chandelier or stand-out pendant to draw the eye upwards.
If you're lucky enough to have high ceilings, look to tall living room lights to accentuate the space. Arc floor lamps are particularly popular.
Needless to say, a large room will most likely need more lights to illuminate the whole space. A single overhead fixture may not cut it so have fun with multiple ceiling lights. The trick is to stick with simpler designs and hang them on a grid as opposed to random spots throughout the ceiling.
Lighting accessories
More bright sparks
Why buy at Habitat?