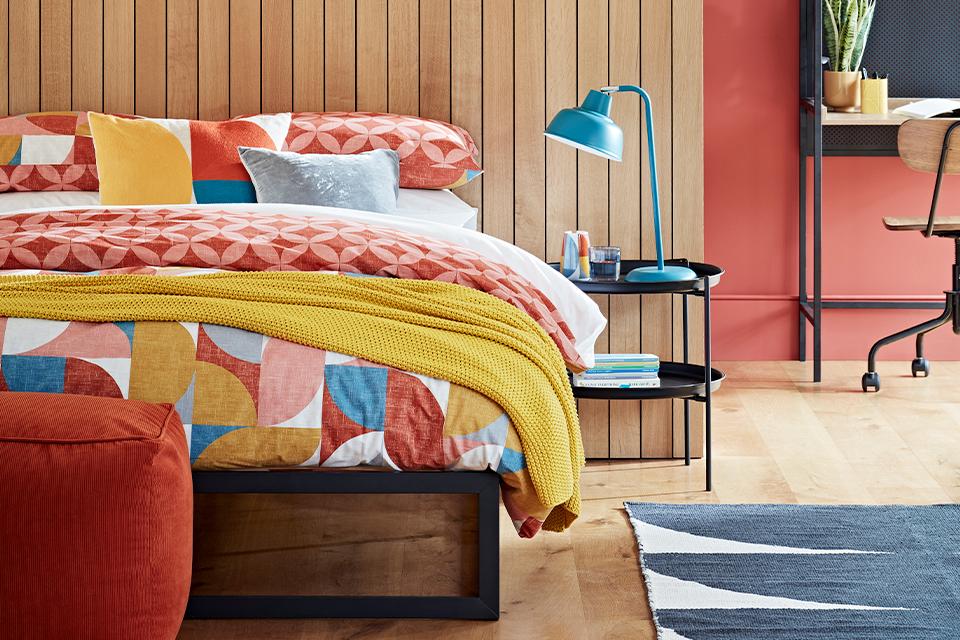 What is the mid-century look?
Inspired by the cool, industrial style of the 1950s and 60s, we've delved into the Habitat archives to create our modern interpretation of the mid-century trend. Defined by its clean lines and uncomplicated, highly functional design, the furniture takes on a utilitarian edge with metal and wood finishes. This is beautifully offset by a vibrant colour palette of burnt orange, mustard yellow and teal blue.
In the living room
Orange is the new black
Mid-century furniture has a distinctive look. Tables and chairs are characterised by their tapered legs and rounded corners. A mid-century sofa or armchair makes the perfect statement centrepiece. Why not choose a style in one of the signature colours of the period; egg-yolk yellow or flaming orange.
Hey there multi-tasker
Fashionable and functional, mid-century furniture is designed to be looked at as well as enjoyed. While the openness of the shelves and storage here creates space and light, typical of the mid-century movement, it also provides a stylish zone to display a curated collection of books, artwork and trinkets.
Mid-century living room picks
In the dining room
Space-saving heroes
Mid-century style is known for its unfussy aesthetic, meaning mid-century dining chairs and tables will often have a pared-back and streamlined design. Room on the small size? No problem. Their slimline frames create the illusion of space to keep your dining room feeling light and spacious.
To dine for
To add interest to an otherwise understated look, brighten up mealtimes with vibrant tableware in colours typical of mid-century design. We can't wait to get our hands on this embossed set and pretend we are living in the Mad Men era.
Mid-century dining room picks
In the bedroom
Pattern play
Opposites really do attract when it comes to the mid-century trend. Minimalist mid-century furniture looks great paired with colourful graphic and abstract prints. An easy place to start? Wake up your bedroom with statement bedding and geometric cushions.
Working from home
We've introduced a range of new desks that will fit seamlessly into main living rooms and bedrooms without looking too, well, desk-like. Ideal for small spaces, this industrial desk has a magnetic mesh board great for pinning to-do lists and a shelf for work essentials.
Hit the switch
Finally, add the perfect finishing touch with retro lighting. Our brightly coloured styles make them a focal point in any room while the simple, thin stem and straight crisp lines accentuate their utilitarian look.
Mid-century bedroom picks
Also trending
Why buy at Habitat?