Let's explore styles
Sliding wardrobes
Sliding doors = savvy use of space. Because the door moves across instead of opening out, there's more room around it. Bye bye crammed and cluttered. Let's not forget to mention the choice of chests, rails and open shelving you'll have too.
Mirrored wardrobes
Short on wall space? Make way for mirrored wardrobes. Basically a 2-in-1, it eliminates the need to squeeze in a stand-alone mirror, making the room feel bigger and brighter. It offers more than meets the eye.
Space-saving wardrobes
Give yourself more wiggle room with clothing rails, open wardrobes and other space-saving designs. They're often more affordable than other styles too. Height adjustable, built in shelves, multi-rail or wheels, they could be the answer to your problems.
Kids' wardrobes
Seeing as the contents are dinkier, kids' wardrobes usually are too. Fold, hang, stack (scrunch and chuck in when the kids are involved), their clothes can be put away to make room for play.
How many doors do you need?
Which material & colour is your cup of tea?
Choosing your wardrobe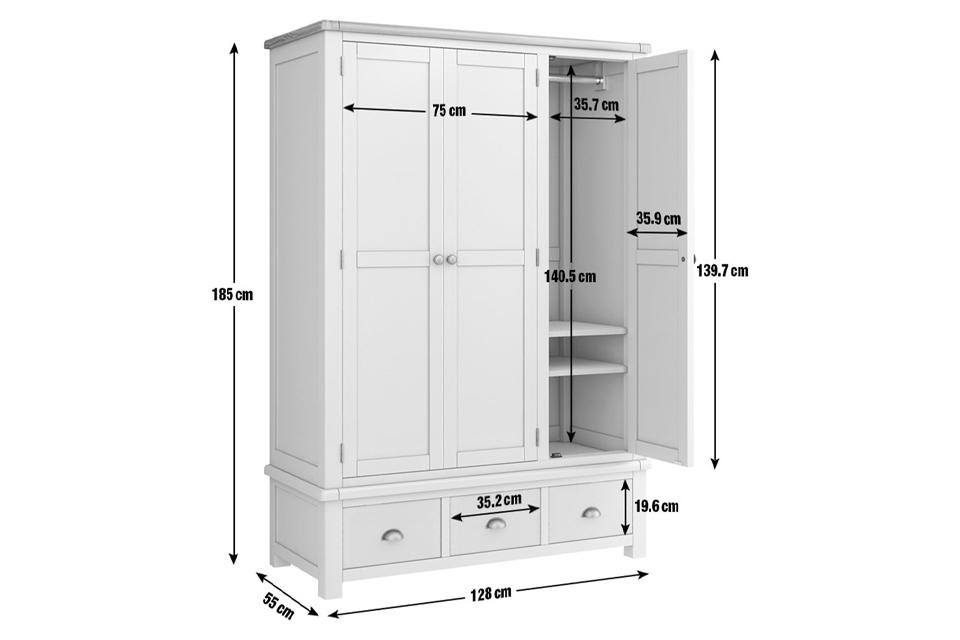 How to measure a wardrobe
Note the width, height and depth of your space and wardrobe to make sure it'll fit. You may want to check out the internal measurements too. These will indicate how much storage space you actually have.
We have the dimensions of every wardrobe we offer in the 'Details and Dimensions' section next to the wardrobes that catch your eye.
All our wardrobes come flat packed, so your doors and awkward corners shouldn't be an issue, unless you have tight spiral staircases then you may need to pivot!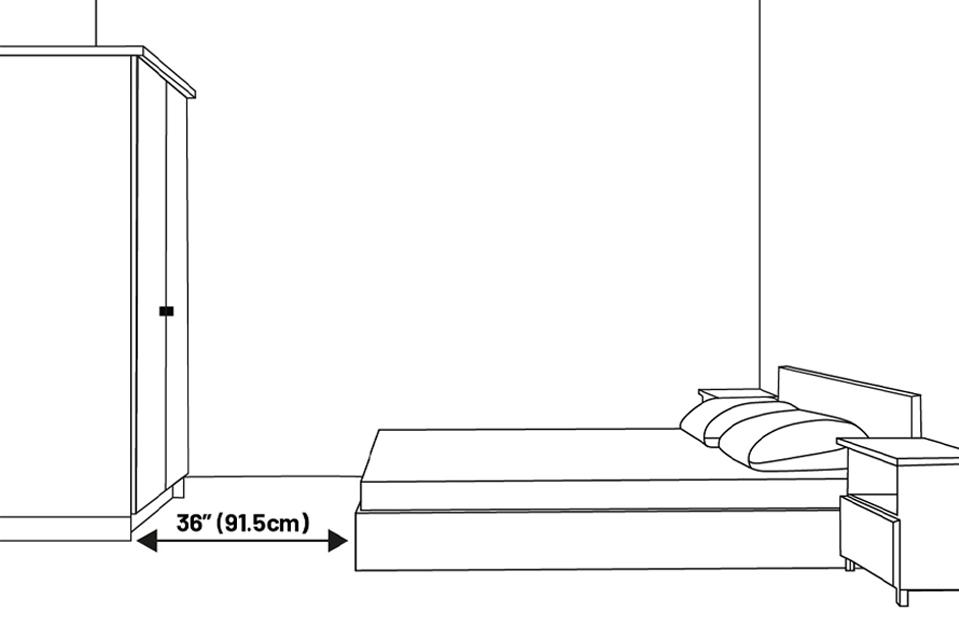 Clearance
It's important to measure the space around your wardrobe. You want to be able to comfortably stand in front of it and open the doors and drawers easily.
If you have a smaller bedroom, this is where sliding wardrobes work perfectly as they don't open outwards.
When measuring your space, leave the following clearance: 1cm of width clearance and 4cm of ceiling clearance.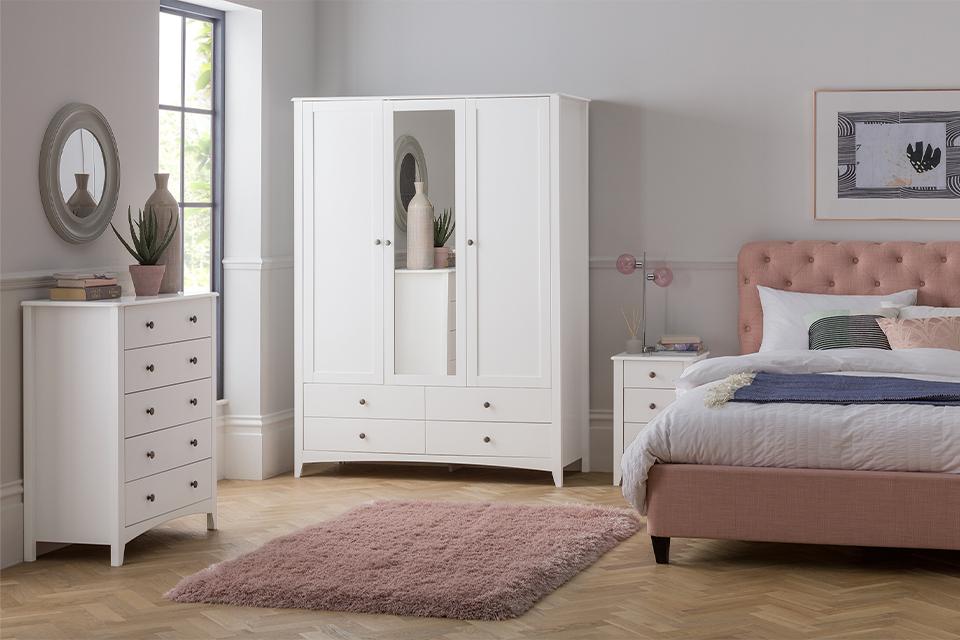 Things to consider
We don't want you to bear the wardrobe-choosing burden alone, so we've listed some things to think about beforehand.
How many people will be using the wardrobe?
Will the style fit in with the rest of the room? You may want to check out our bedroom furniture sets.
How much space do you need?
Do you want hinged or sliding doors?
Think about your clothes – do you need more space for hangers, or more space for folded clothes?
Wardrobe storage
Create compartments for smaller bits like socks, accessories and anything else that doesn't need to be hung with baskets, boxes and trays. Hanging shoe racks are a nifty way to add extra space-saving storage. You might even want to pick up some under the bed boxes to tuck away outfits that aren't seasonally suitable.
Caring for your closet
Wood finishes can be wiped with a slightly damp cloth and dried thoroughly, while mirrors and white glass should be cleaned with a cool damp cloth. It's best not to use glass cleaner or furniture polish – they're too harsh and can cause damage to the wardrobe's finish.
For specific cleaning instructions, please refer to individual product pages.
More fashionable finds
Why buy at Habitat?