Lighting
Make a statement with your lighting
Give your entertaining space a refresh by switching up your lighting.
Shop now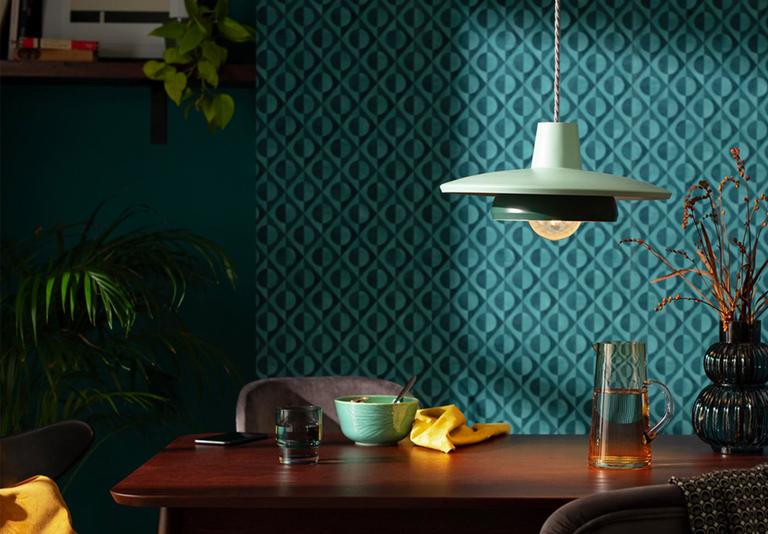 Shop our range of lighting
Find the perfect lighting for each room
Lighting ideas for your home
Transform your interiors with a lighting upgrade. Get it right with our glorious collection of lights. From spotlights to ceiling lights – our comprehensive range will illuminate your living space in the best possible ways. Brighten up a cosy reading nook with a contemporary floor lamp or complete your home office interiors with the perfect task light – we are here to help you illuminate your space effortlessly.
Not sure where to start? We've got many great lighting ideas to help you set the mood for any room. Whether you want a subtle, relaxing glow up or need a bright, energising lighting solution – you've come to the right place. Think on-trend tripod floor lamp if you've got free floor space in your living room. They not only attract attention but lend a calm boho-chic vibe to the whole decor and make your space feel complete. From monochromatic structured lamps to multi-coloured arc ones – our range will help you create a focal point easily. Check out our collection of classic black lamp shades to ensure your lamps are dressed to impress.
Redecorating your bedroom? Start with bedroom lights – often neglected but so crucial to creating the right atmosphere. If you're looking for a single light to get the job done, our wide range of ceiling lights and LED lights are a go-to option. They brighten up the whole space and instantly catch the eye. Nail the luxe trend by opting for drop ceiling exposed lightbulbs. So chic and understated, they look great with minimal effort.
Upgrade your kitchen lighting with our stylish pendant lighting solutions – they illuminate the space instantly and ensure proper light while you cook your way to a great meal. Brighten up your mealtimes with our selection of dining table lighting or chandeliers. If you're a fan of dining in the outdoors, elevate your outdoor décor with garden lights from our collection. No matter what you're after – we'll help you with bright solutions to illuminate your space.
Complement your lighting with your furniture to make your space feel more indulgent. Go for a chrome table and matching dining table chairs for a modern look or create country chic aesthetics with wooden dining sets. Our collection starts from 2-seater and goes up to 8-seater.
A brand-new sofa is a sure-fire way to totally transform your living room. Our range of sofas includes 2-, 3- and 4-seater designs to help you get the right one for your needs. For a show home look, choose from our luxurious velvet sofas, and if you're after the mid-century trend, our fabric sofas are sure to impress you. Add finishing touches with complementing curtains, and you're all set to entertain.