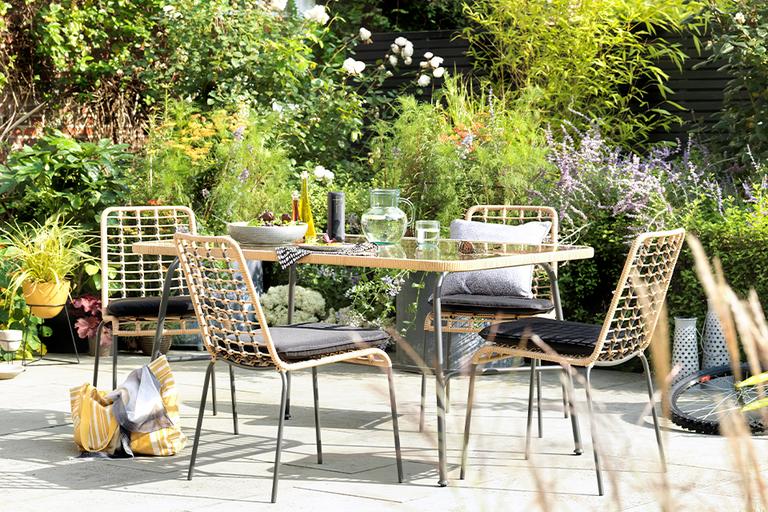 Trending now
Inside out
Blur the line between home and garden with accessories that work inside and out. Enhance your outdoor space with simple ceramics and textiles – that are also easy to move back indoors.
Monochromatic mosaic
All the Ms. These monochromatic mosaic designs intertwine minimalism and quality. Complete with some metal chairs for a truly trendy way to enjoy drinks and nibbles outdoors.
Bright colours
Add a pop of colour that shines through regardless of the weather. Extend the daylight hours with subtle solar lights and amp up the joy of summer with colourful furniture and accessories that give your garden even more personality.
Garden furniture guide
Looking for some new outdoor seating? Here's how to turn your garden or patio into the best seats outside of the house.
Tables and chairs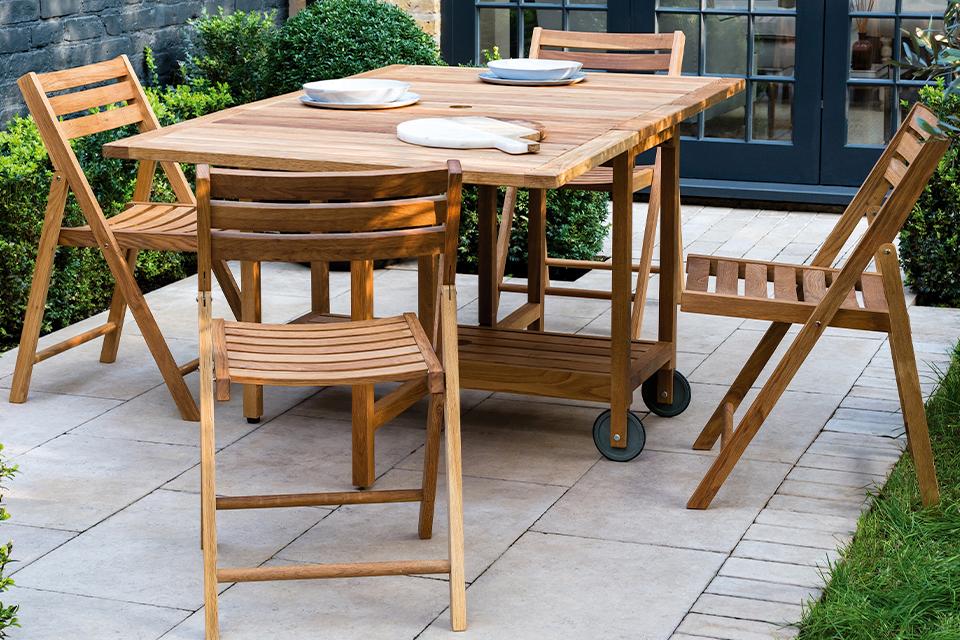 Go al-fresco with family and friends. A table and chairs set is the most popular choice for turning your patio into a sunny social spot.

You've also got a few options to choose from, whether it's wooden, modern rattan-effect, or hard-wearing metal. Remember to measure up beforehand to make sure it'll fit, and to consider how many chairs you're likely to need.

Some sets even come with a sofa, or comfy cushioned chairs for even more luxury lounging.

Shop all table and chair sets or read on to find out more about how to take care of your garden furniture.
Deck chairs & sun loungers
Soak up the sun and work on that tan with our range of deck chairs and sun loungers. Preferably with a nice cool drink in hand.
Director chairs and extra seating
Add a hot seat that everyone wants to sit in with a director chair, or pick up some spare garden chairs for when guests are over.
Garden benches
A classic garden bench gives you a serene spot to unwind. Grab a book, take a seat and watch the world go by in peace.
Bistro sets
Perfect for an intimate patio setting. These sets tend to be just for two, providing a spot to sun-it-up as a couple, read a book and unwind outside.

They are also a top space saver, and a great fit for the smaller spaces in your garden or patio.
Garden bars
Hey there, fancy a drink? Bring the beer garden home with these fancy bar units. Going out is soo last year, so get the drinks in and enjoy a summertime tipple at your very own garden bar.

Pair with some patio seating and you'll have some very jealous guests on your hands.
Caring for your garden furniture
How to take care of rattan effect garden furniture
Rattan-effect is much loved for its stylish nature. It works indoors in a conservatory, or outdoors on the patio and is both durable and reasonably lightweight.
Due to its durable nature, rattan-effect garden furniture can be kept outside all-year round. To clean or remove stains, use a damp cloth or hot soapy water, but avoid using chemical or abrasive cleaners.
Any cushions or fabric add-ons should be kept inside in the winter.
How to take care of wooden garden furniture
Wooden garden furniture is a classic choice – great for patios and gardens alike. It offers durability and a natural look. They don't retain heat, meaning your table and chairs won't get too hot in the height of summer.
Wooden garden sets require a little maintenance and care. You should clean them with a damp cloth or hot soapy water, and use an oil treatment once a year to help them maintain their condition and durability.
How to take care of metal garden furniture
Metal is a sturdy and low maintenance choice. It can be heavier than other options, but it should also last a long time.
Most sets are rust resistant and they should be cleaned with hot soapy water or a damp cloth – although avoid using chemical or abrasive cleaners. You could also use a pressure washer on a low setting.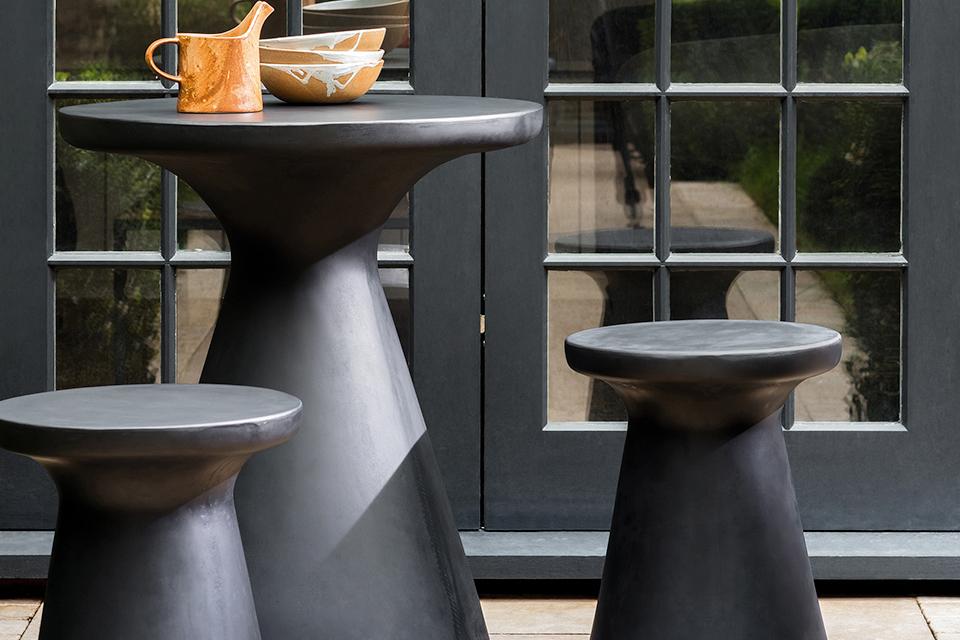 How to take care of concrete garden furniture
Concrete garden furniture can make a real style statement in your garden.
Regular dusting with a dry cloth will keep your product clean and a damp cloth and washing up liquid should remove any stains. Avoid using abrasive cleaners or chemicals.
Step outside
Why buy at Habitat?