Let's look at the different types of sofas
2 seater sofas
Small but perfectly formed, these sofas are just the right size for snuggling up on. They can be used as the main seating in a petite apartment or as part of a suite that contains a larger couch and chair.
3 and 4 seater sofas
Our three and four seater sofas are designed to seat more people, unless of course you really wanted to stretch out on your own! They are great for families and homes with larger living rooms.
Corner sofas
These corner couches are also known as L-shaped sofas. They are made up of two seating sections, which form a right angle when put together. They work particularly well in big, open plan spaces, where their scale can be used to separate one area from another.
Sofa beds
Two essential pieces of furniture rolled into one. These sleeper sofas tidily tuck a foldout bed beneath their seat cushions, while remaining a comfortable place to sit. They easily adapt in one swift movement to sleep guests or party stragglers.
Sofas in a box
A sofa in a box is exactly as it sounds. Packaged in handy, carry-able boxes, they can be collected in-store or delivered to your door. Easily transported, they'll fit in most cars and are a doddle to get through doorways and up stairs making them a blessing for flats and small spaces. They're quick and easy to assemble too. The best bit? They still offer the same optimum comfort, style, and support as a regular sofa.
Cuddle chairs
These cute kids of the upholstery world are sofa-like in style but with a seat that's slightly bigger than an armchair but not as big as a two seater sofa. Size wise, they're perfect for cosy spaces and can be used as secondary seating to pair with a larger sofa.
Shop live with an expert
Have a question about one of our products? No problem. You can speak to one of our advisors via video from the comfort of your own home.
How to measure your space for a sofa
Heart set on a Habitat sofa? Great taste! But, before you click on that little 'Add to Bag' button, you'll need to measure up and check your new love is compatible with your space.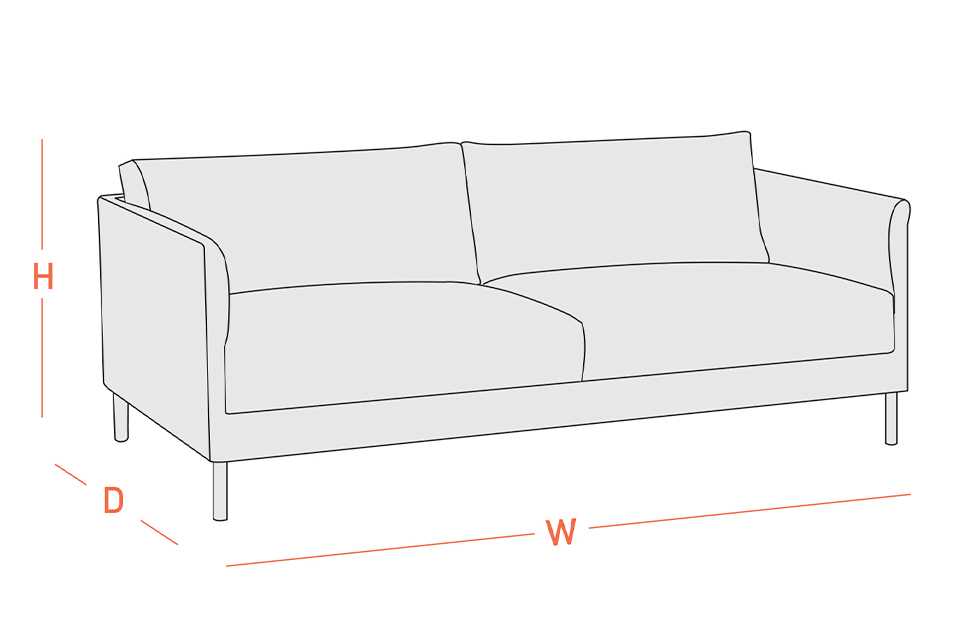 We're talking size – because it really matters when it comes to sofas
Our sofas come packaged for safe delivery. So, the first thing to do is to jot down the 'packaged' dimensions of your chosen sofa – width (W), height (H) and depth (D). You'll find these measurements listed on our product pages.

Buying a corner sofa? If so, your order will be delivered in more than one package. But that's it. You'll just need to make sure each of the packages can fit into your home.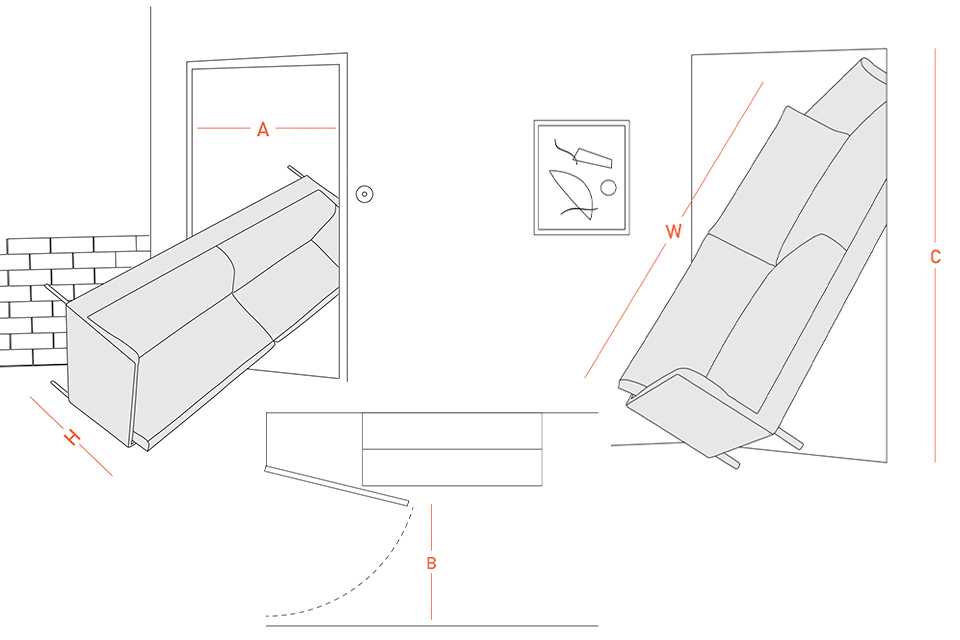 Getting your new sofa through the front door
First off, you'll need to make sure your sofa will fit through the front door. Measure the width of your door frame (A). If this measurement is greater than your sofa's packaged height, then your sofa will fit through just fine.

If, however there is an obstruction behind your door and you cannot open it fully, open the door as wide as it will go and measure from the outer edge of the door to the inner edge of the door frame at its narrowest point (B). If (B) is greater than your sofa's height (H), then we can guide it through.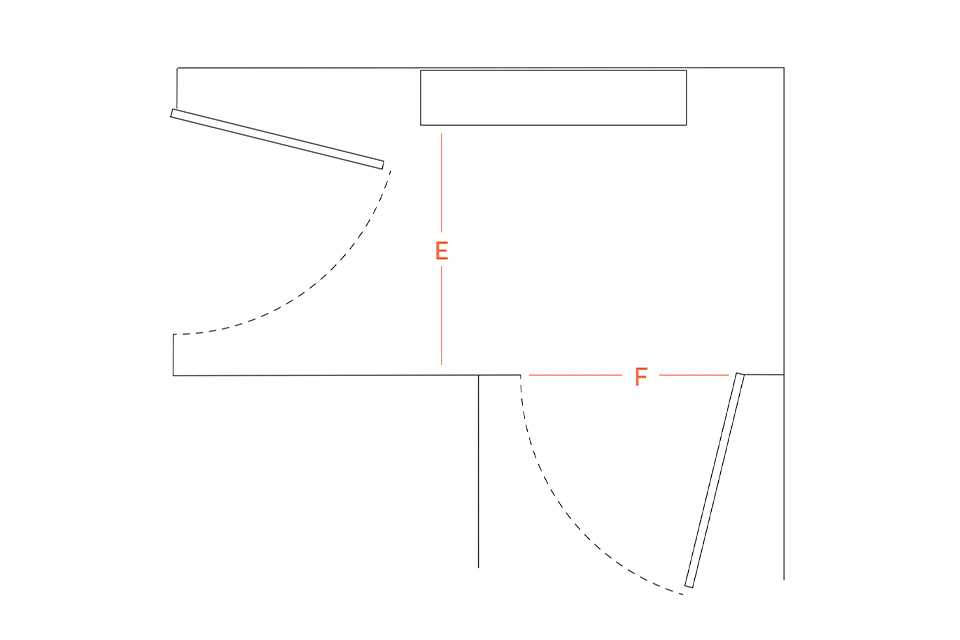 Manoeuvring through hallways and internal doors
Phew! You now know your sofa can make it through the front door, but will it be able to reach its designated spot? Measure the width of any passages, hallways, or doors (F) that your sofa will pass through. And don't forget to take note of any possible obstructions such as shelving or radiators. For smooth passage, the packaged height of your sofa will need to be smaller than these measurements.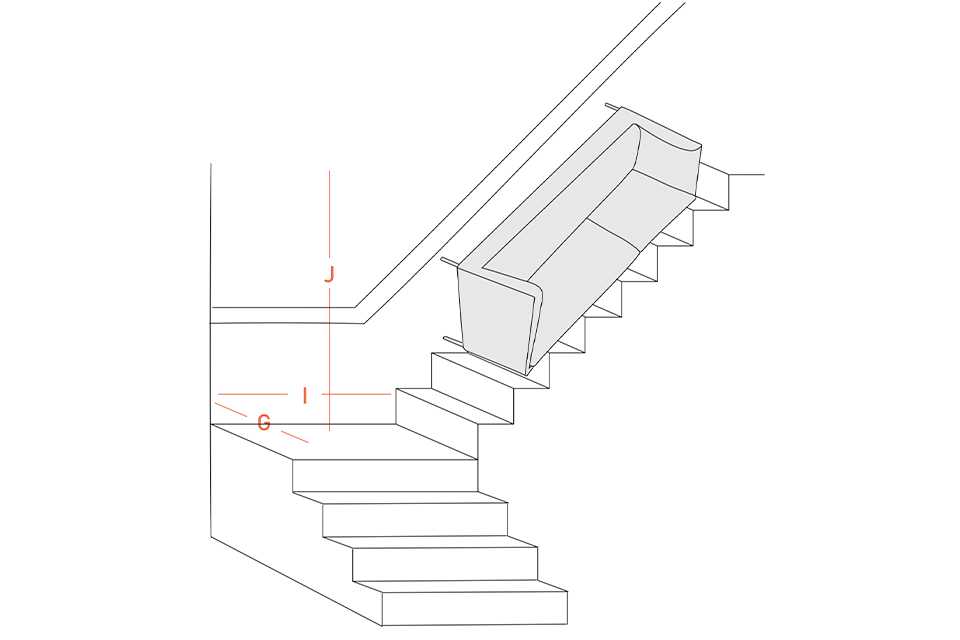 Getting your sofa upstairs
Need to get your sofa up some stairs? No problem! Measure the width of your stairs at their narrowest point (I). If this is wider than the packaged height of your sofa, then it should fit. If there is a landing, measure its depth (G), width (I) and height (J). As long as these measurements are greater than the width, depth and height of your sofa, this should be fine.

Will we need to lift the sofa over a bannister? If so, make sure the distance between the bannister and the ceiling is greater than the packaged depth of your sofa at the narrowest height.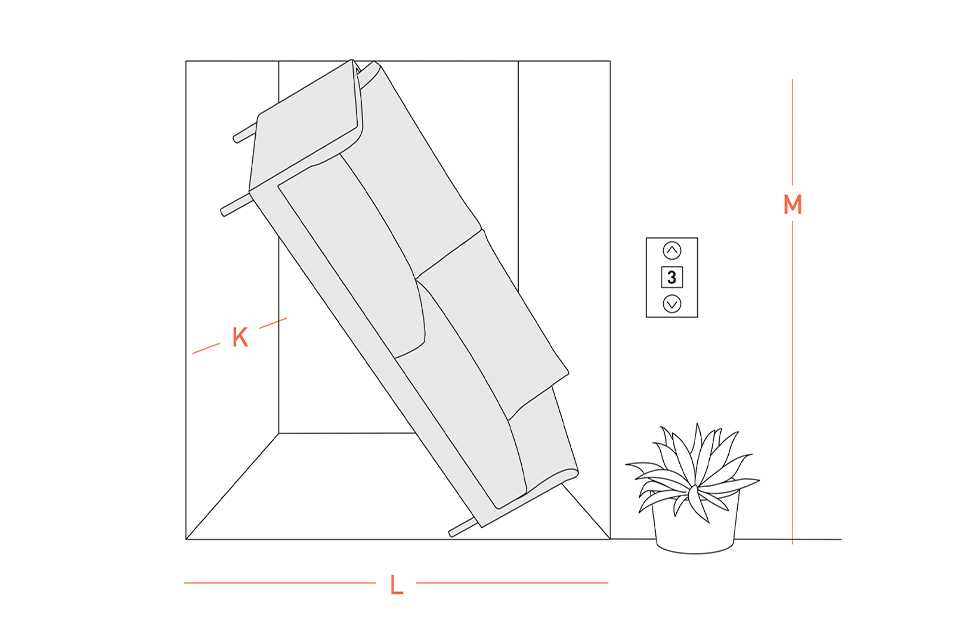 Fitting your sofa into a lift
Does your building have a lift we'll need to use? If so, you'll need to measure the open-door height (M), width (L) and depth (K) of the lift to make sure we can fit your sofa inside. It's also worth measuring the diagonal height of the lift from bottom front to the top back in case the sofa needs to fit into the lift at an angle. If the dimensions are greater than the packages width, height and depth of your sofa, there shouldn't be a problem.
Thinking about a sofa bed?
No guest room? No problem ...we've got this! As the name suggests, a sofa bed is two essential pieces of furniture rolled into one - a sofa with a foldout bed tidily tucked beneath its seat cushions. But where sofa beds might have once done two jobs half-heartedly, they've had an upgrade and are now comfortable and supportive in both their guises.
2 seater sofa bed
Room for two and maybe a little one as well, this type of sofa bed is wider than a single but not as wide as a double bed.
3 seater sofa bed
A great choice, if you have the space, three seaters give overnight visitors a little more room to spread out.
L-shaped sofa bed
These L-shaped sleeper sofas typically comprise a two-seater sofa and a chaise that opens up to store bedtime bits and bobs.
Chair bed
Bed ready in seconds, chair beds turn the tiniest of rooms into a comfy sleeping space for surprise guests.
Metal-action frame
The metal-action frame, is where the sofa seat cushions are removed, and the mattress, suspension, and frame of the bed fold out from the interior of the sofa.
Clic-clac
The clic-clac, on the other hand, is a quicker, less complicated affair. It's where the base cushion of the sofa clicks forward to let the back clack flat, thus making a perfect crash pad for a last-minute party guest.
Flip over
Flip-over designs are probably the easiest sofa beds to operate. They unfold directly onto the floor to create a comfy sleeping spot for guests to rest on.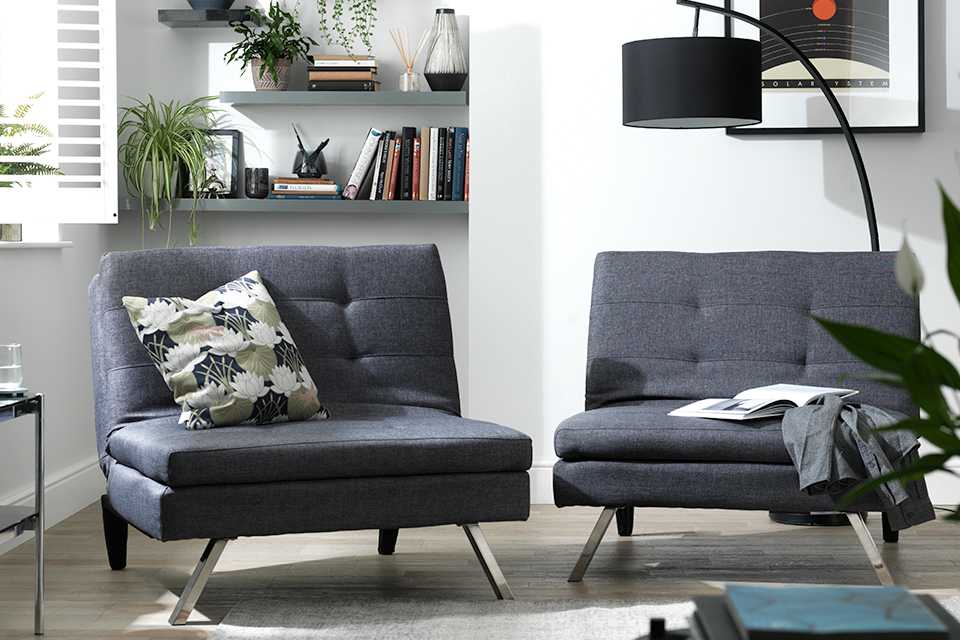 Looking after your sofa bed
Our sofa beds should have a care label attached to them when they arrive. This can be removed and kept in a safe place for referencing later. Each is appropriate to that specific sofa bed.

Fabric sofa beds should be vacuumed or brushed weekly, as dirt accumulating on it can lead to the upholstery wearing and its colour dulling. The metal parts to the support frame of the bed section can be wiped clean of dust and dirt with a soft damp cloth.

Like regular mattresses, a sofa bed mattress benefits from being aired, especially as it can end up folded beneath the sofa cushions for long periods of time.
Having found the type of sofa you want, the next thing to do is settle on a fabric. Almost all our fabric sofas are made in Europe, with many coming from family-run Italian mills. We carefully choose our fabrics for their consistently high quality, and every fabric we use is tested to comply with the UK Furniture and Furnishings Fire and Safety Regulations.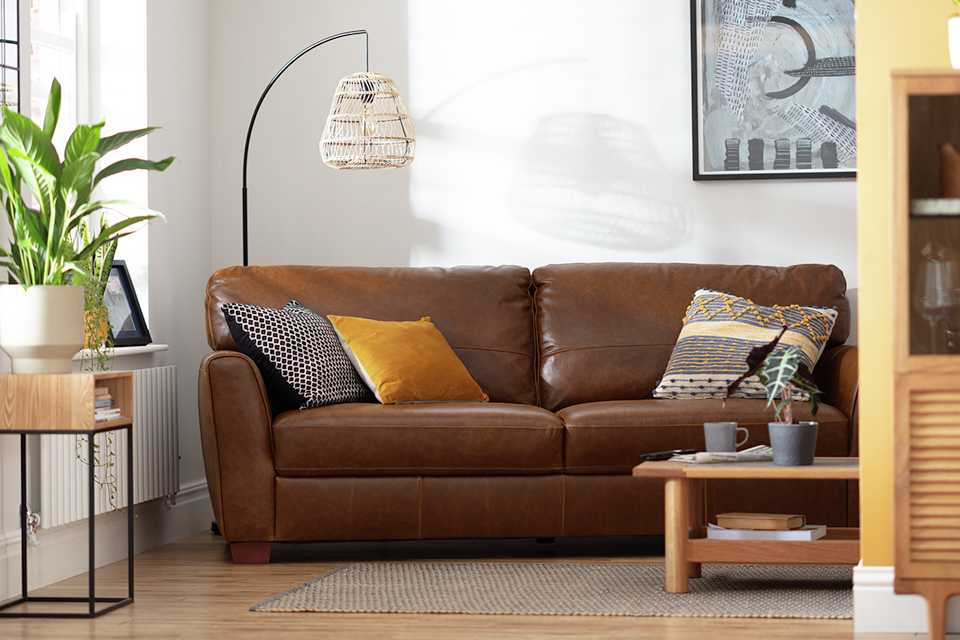 Linen - Sofas made in linen have a casual, lived-in look, with natural creases that soften over time.

Cotton - Whether pure or blended, cotton is extremely versatile and comfortable, making it easy to care for and live with.

Polyester - Durable and hardwearing, polyester can truly stand the test of time and is great for everyday use.

Velvet - Soft with an oh-so satisfying feel, velvet is as luxurious to look at as it is to sit on.

Wool - For creating a cosy look and feel in your home, there's nothing quite like wool.

Leather - Natural and soft, but extremely durable and strong, leather is a fabric that only improves with age.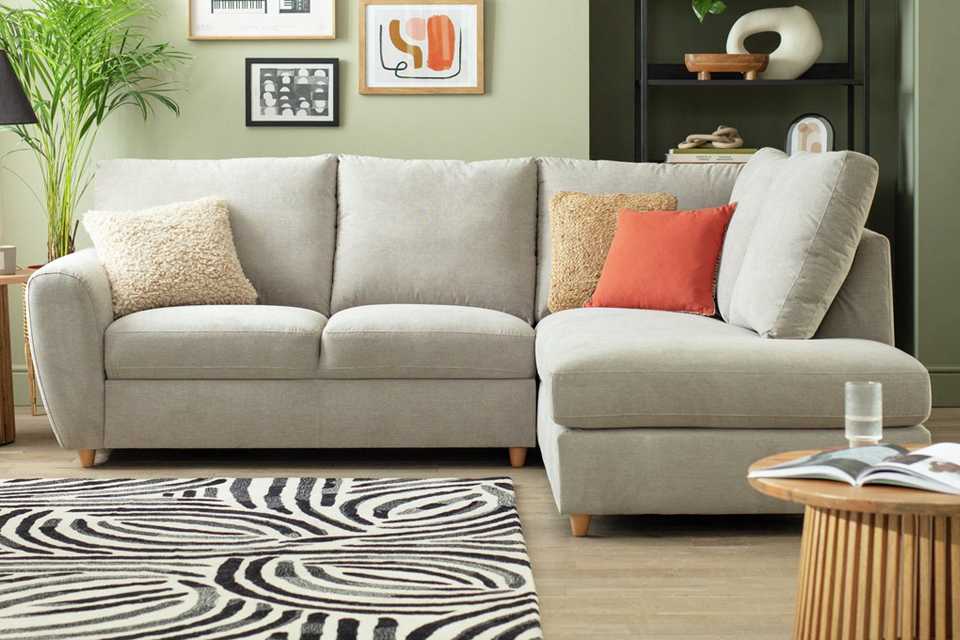 So supportive
Sure, it looks the part, but how does it feel when you're sitting on it? Well, when it comes to cushion comfort, we've got options aplenty.

Feather - The classic luxury-feel filling, feather has a high level of comfort and is popular because it's natural. Feather fillings need regular plumping to keep their generously rounded look and soft support.

Foam - Available in a variety of densities, a foam cushion will give a firmer support and cleaner lines than a feather one, and a higher-density foam will maintain its shape better.

Polyester fibre - On its own polyester fibre is not durable enough for seat cushions, so we use it mixed with feather for smaller cushions.
Our free fabric swatch service
We always encourage our customers to order swatches of the fabrics they're interested in, because we think upholstered furniture is a BIG deal - a big decision about a big piece. Seeing a picture of your chosen fabric just isn't the same as touching it and looking at it in different lights. Since there's nothing like the real thing, there's nothing like a swatch for giving you the best idea of what you're interested in. To order, go to the product page of the sofa bed you're considering on the site and click 'Order Free Fabric Swatch Sample' above the price.
Anything else to consider?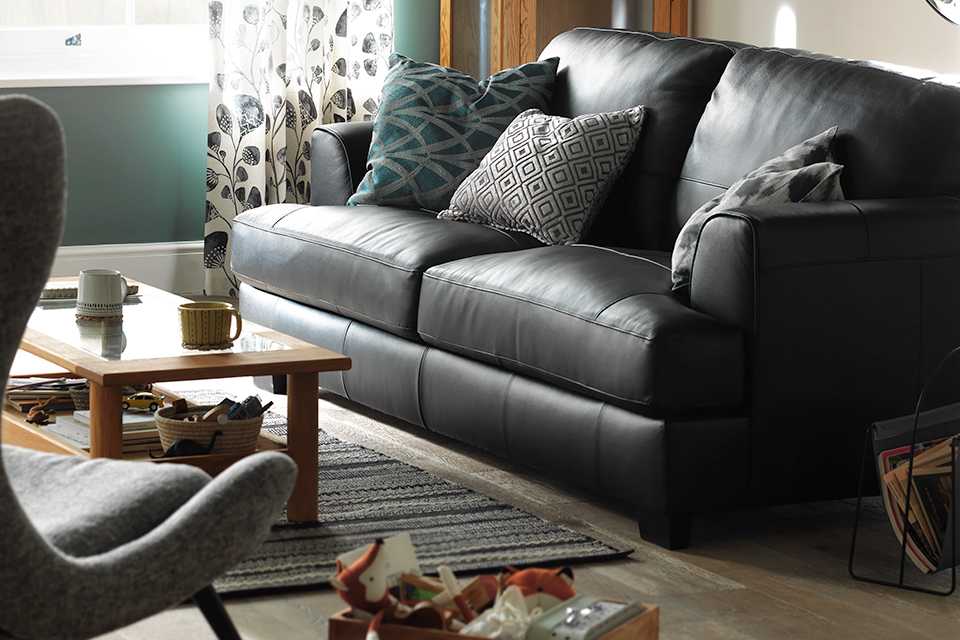 Caring for your couch
Our sofas should have a care label attached to them when they arrive. These can be removed and kept in a safe place for referencing later. Each is appropriate to that specific sofa. We always recommend professional cleaning, because we know it gets the best results.