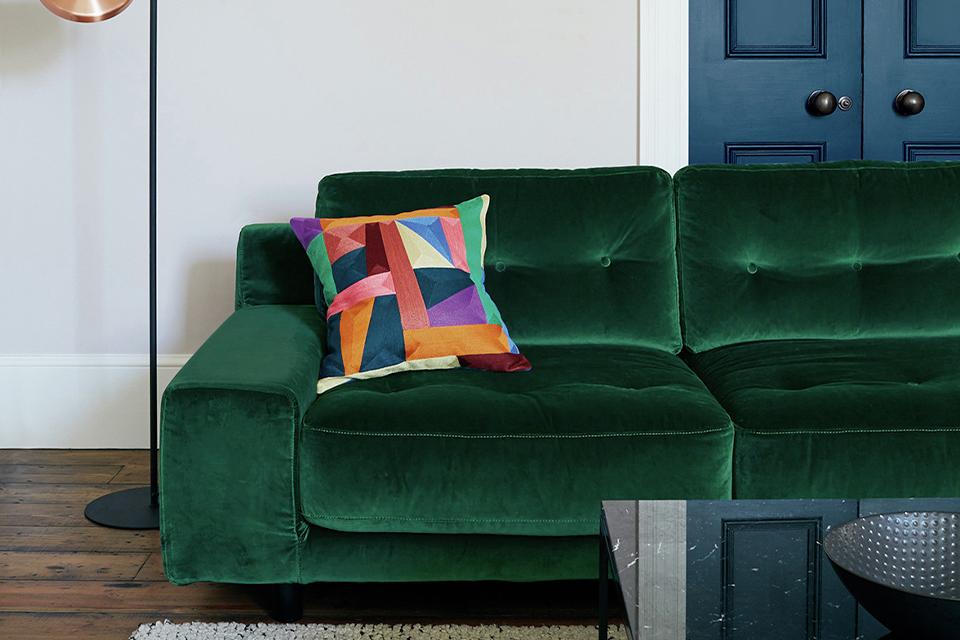 Looking for a new sofa? We're happy to help
Here at Habitat, we're sofa specialists. So whether you're after a spacious sectional, roomy chaise, or just a small snuggler, we've got you covered.

Can't decide on the right sofa style for your living room? Not to worry, we've broken it all down for you to make it super simple.
Let's look at the different types of sofas
2 seater sofas
Small but perfectly formed, these sofas are just the right size for snuggling up on. They can be used as the main seating in a petite apartment or as part of a suite that contains a larger couch and chair.
3 and 4 seater sofas
Our three and four seater sofas are designed to seat more people, unless of course you really wanted to stretch out on your own! They are great for families and homes with larger living rooms.
Corner sofas
These corner couches are also known as L-shaped sofas. They are made up of two seating sections, which form a right angle when put together. They work particularly well in big, open plan spaces, where their scale can be used to separate one area from another.
Sofa beds
Two essential pieces of furniture rolled into one. These sleeper sofas tidily tuck a foldout bed beneath their seat cushions, while remaining a comfortable place to sit. They easily adapt in one swift movement to sleep guests or party stragglers.
Modular sofas
Modular sofas are the perfect choice for those wanting a sofa that can change and grow with their home or family. Coming in sections and parts to put together any way, their flexible frames can be adapted to fit any type of space, large or small.
Love seats
These cute kids of the upholstery world are sofa-like in style but with a seat that's slightly bigger than an armchair but not as big as a two seater sofa. Size wise, they're perfect for cosy spaces and can be used as secondary seating to pair with a larger sofa.
Fabrics and fillings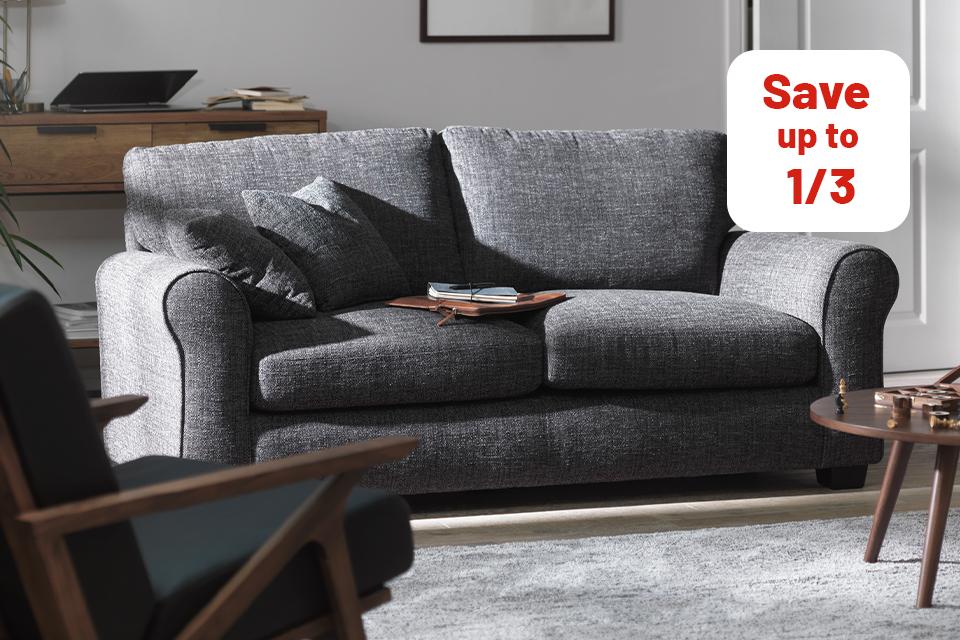 Feel good fabrics
Having found the type of sofa you want, the next thing to do is settle on a fabric. Almost all our fabric sofas are made in Europe, with many coming from family-run Italian mills. We carefully choose our fabrics for their consistently high quality, and every fabric we use is tested to comply with the UK Furniture and Furnishings Fire and Safety Regulations.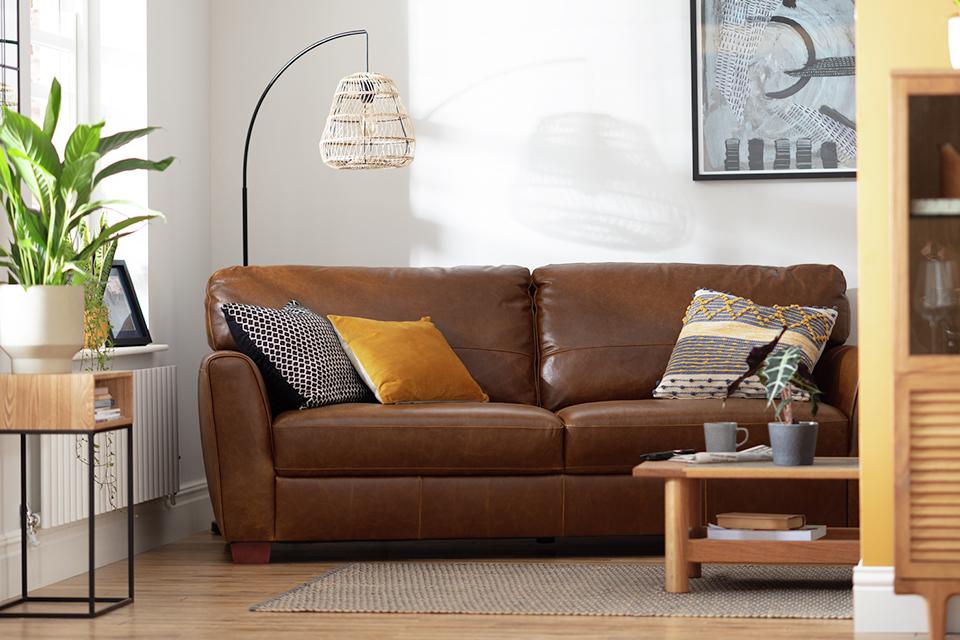 Linen - Sofas made in linen have a casual, lived-in look, with natural creases that soften over time.

Cotton - Whether pure or blended, cotton is extremely versatile and comfortable, making it easy to care for and live with.

Polyester - Durable and hardwearing, polyester can truly stand the test of time and is great for everyday use.

Velvet - Soft with an oh-so satisfying feel, velvet is as luxurious to look at as it is to sit on.

Wool - For creating a cosy look and feel in your home, there's nothing quite like wool.

Leather - Natural and soft, but extremely durable and strong, leather is a fabric that only improves with age.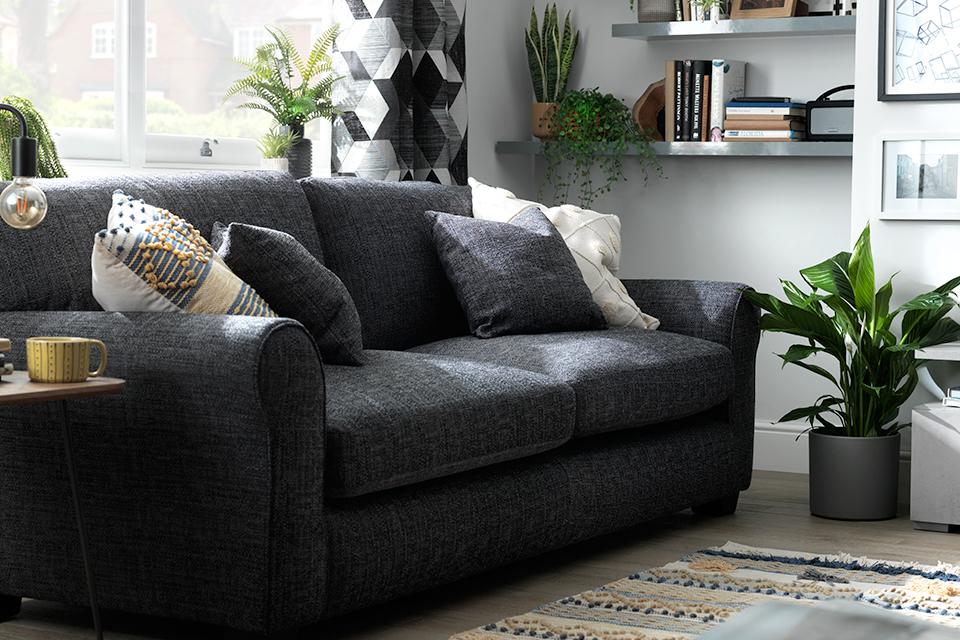 So supportive
Sure, it looks the part, but how does it feel when you're sitting on it? Well, when it comes to cushion comfort, we've got options aplenty.

Feather - The classic luxury-feel filling, feather has a high level of comfort and is popular because it's natural. Feather fillings need regular plumping to keep their generously rounded look and soft support.

Foam - Available in a variety of densities, a foam cushion will give a firmer support and cleaner lines than a feather one, and a higher-density foam will maintain its shape better.

Polyester fibre - On its own polyester fibre is not durable enough for seat cushions, so we use it mixed with feather for smaller cushions.
Our free fabric swatch service
We always encourage our customers to order swatches of the fabrics they're interested in, because we think upholstered furniture is a BIG deal - a big decision about a big piece. Seeing a picture of your chosen fabric just isn't the same as touching it and looking at it in different lights. Since there's nothing like the real thing, there's nothing like a swatch for giving you the best idea of what you're interested in. To order, go to the product page of the sofa bed you're considering on the site and click 'Order Free Fabric Swatch Sample' above the price.
Anything else to consider?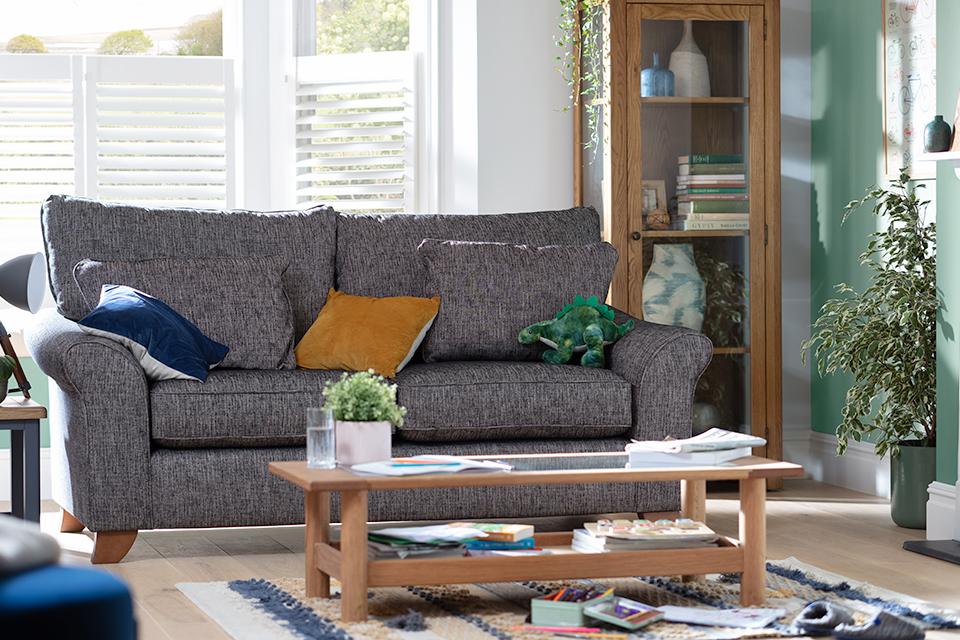 Sizing up
The best way to figure out what works for your room is to consider what other pieces you need to fit in it alongside it, as well as how you'll configure them all. Once you know what space your sofa will be working with, consult our sofa measuring guide to work out what size will work best.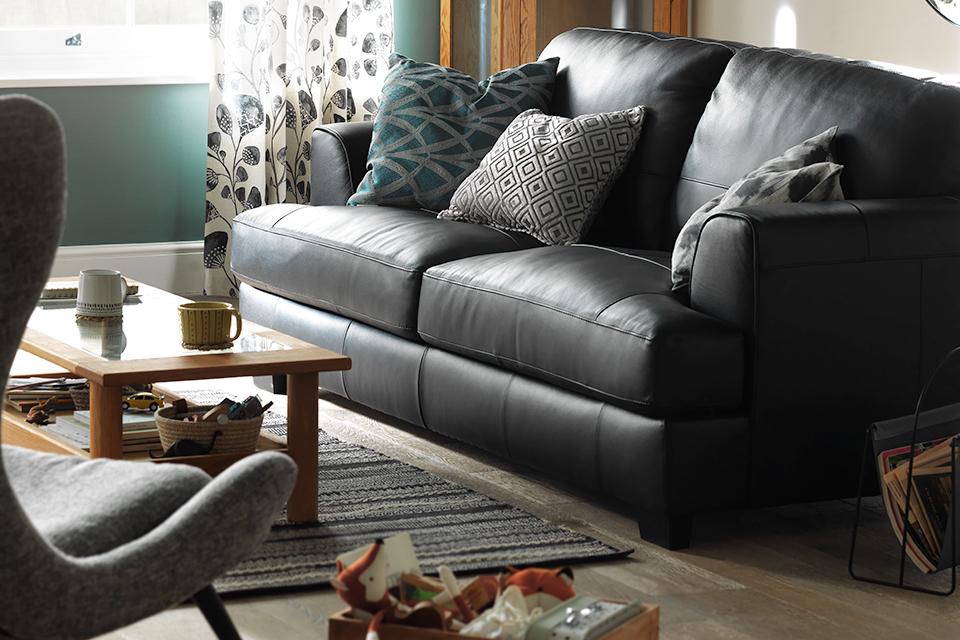 Caring for your couch
Our sofas should have a care label attached to them when they arrive. These can be removed and kept in a safe place for referencing later. Each is appropriate to that specific sofa. We always recommend professional cleaning, because we know it gets the best results.
Need more help?
Why buy at Habitat?