How to choose a TV stand
Ready to binge our prime time picks?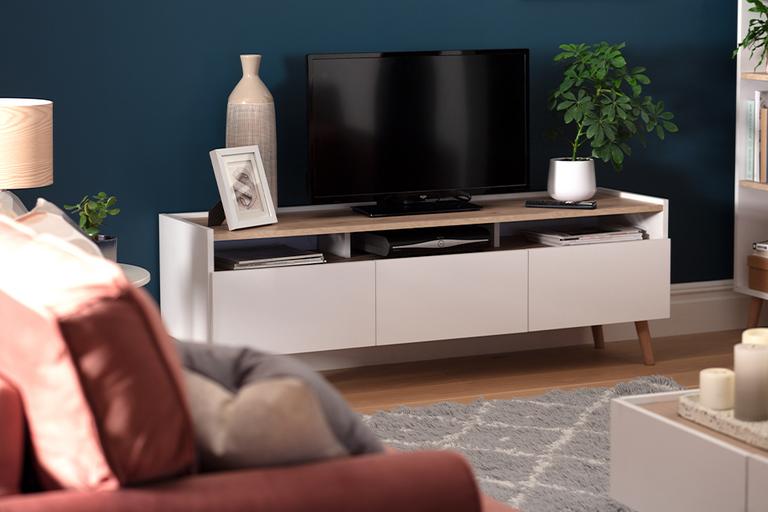 To accommodate both self confessed DIY-ers and those who are less confident with a screwdriver, our TV stands are a mix of self-assembled, fully assembled and some that only need minor assembly. Each product will specify its assembly type on their dedicated product page.
5 TV stand designs to suit any space
1. Corner TV stands
Snuggle them into a corner for the optimum viewing angle. They're a game-changer for oddly shaped spaces and make the most of an otherwise neglected nook.
2. White TV stands
Rustic wood for cosy movie nights, or glam gloss for a contemporary cinematic sitting room. Donning drawers, shelves, or both for your extra bits, our white TV stands are sleek, minimalistic podiums for your screen to sit upon.
3. Wood TV stands
As well as being very durable and strong, like a chameleon, wood adapts easily to its surrounding style. Be it laidback bohemian, homey farmhouse or Scandi simplicity. You're onto a winner with wood.
4. TV stand & sideboard combo
We love a 2-in-1-er. Cost-effective and space-saving, our TV stand and sideboard combos are off to a great start. A top choice if your digs are dinky or you're kitting out your first home.
5. Black, grey & neutral TV stands
For those not feeling white, neutrals are a no-brainer. Greys are calming while blacks are bold and make a statement. The one thing they all have in common is that they're guaranteed to go with any colour palette. So, which shade will you choose?
Choosing a TV stand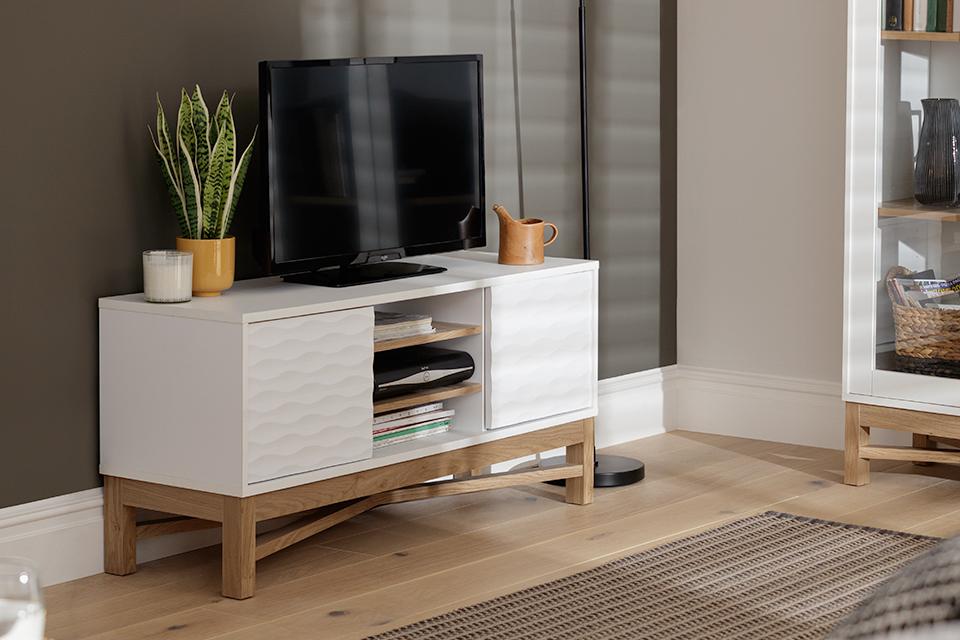 Where's it going to go?
Check out your space. Will a cabinet or bench style fit, or is the area awkward and a corner unit would be better?
Make sure you measure the space, including width, depth and height. Remember, your TV has to sit on top of it.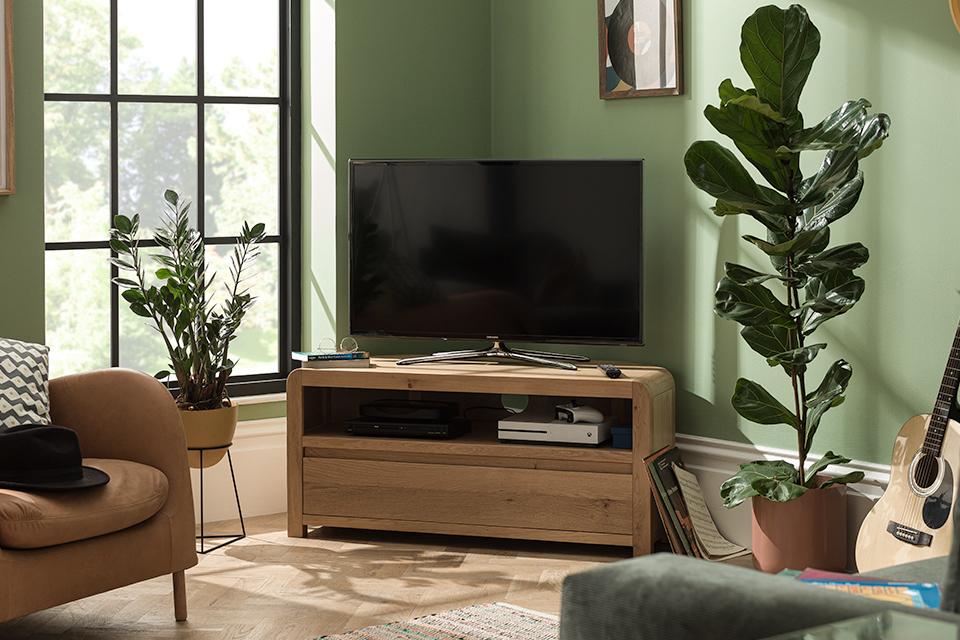 What size do I need?
All our TV stands list the TV size it's suitable for.
Don't downsize. The stand should either be the same length or slightly longer than your TV to ensure it sits stable and fits securely.
Check the stand can hold the TV's weight - we mention this in the assembly info online.
Are there enough shelves and compartments for your consoles and accessories? Note their dimensions so you know they'll fit.
Extra things to think about
If you're storing consoles, choose a stand that has an open or ventilated back so it has air flow to breathe and prevent overheating.
Planning to put your TV box in it? Opt for either an open front design or one with infra-red friendly glass so you can still use your remote.
Position it in a location that isn't cursed with annoying window glare.
Think about where the plug sockets and satellite ports are too. You may need to get an extension cable to plug in your TV and A/V devices.
Switch channels for more ideas
Why buy at Habitat?