The interiors trends we're loving
Modern interior design looks to try at home.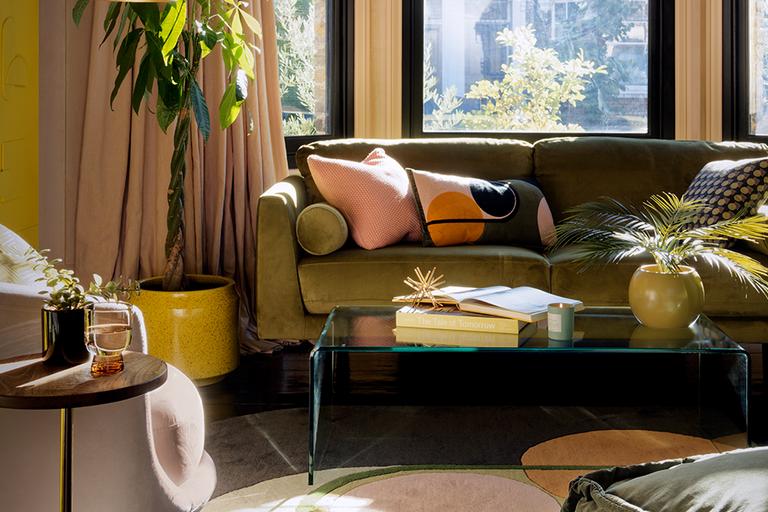 Say hello to our latest trends. With something to suit every style, you're sure to find one that's perfect for you and your home. Love the luxe look? Check out our citrine trend. Prefer a more organic style? Naturalist is the trend for you. Or maybe you want to mix a few together. Anything goes.
Citrine
Seventies throwback
Inspired by the fashion houses of the Seventies but with a modern twist, you'll find abstract geometric prints alongside comfy and curvaceous furniture. A cedar green and pastel pink colour palette makes this collection hard to resist. Throw in some accents of velvet, marble and brushed brass and you have yourself a seriously luxe look.
Fresh vintage
Bring it back
Not afraid to mix it up? You'll love this vintage-inspired collection of clashing prints and furniture designs. With a summery sherbet palette, this trend is proudly eclectic, layering jute, rattan, florals and checks. And it's big on elaborate details too - think scalloped edges, embroidered cushions and spiral candles.
Naturalist
Turning over a new leaf?
Create a sense of calm with this relaxed yet refined look. Taking inspiration from the natural world, this trend combines soft green hues, lusciously leafy prints, bleached woods and handmade ceramics for a fresh and earthly aesthetic.
Global
Around the world
Make a statement. Tell a story. This eclectic trend brings together a melting pot of objects, patterns, textures and colours inspired by travels around the world. From handmade ceramics and rattan furniture to abstract patterns and pops of colour, this collection is full of unique designs from far-flung places.
What about the kids?
Into the wild
Ideal for outdoor explorers, this trend celebrates the wonders of the animal kingdom. Hear them roar!
Pop
Perfect for family homes, our colourful pop trend offers simple yet joyous designs.
Imaginarium
Sure to spark their imagination, this collection has magical mermaids, space-inspired prints and everything in between.
Also trending
Why buy at Habitat?