Creating a functional office space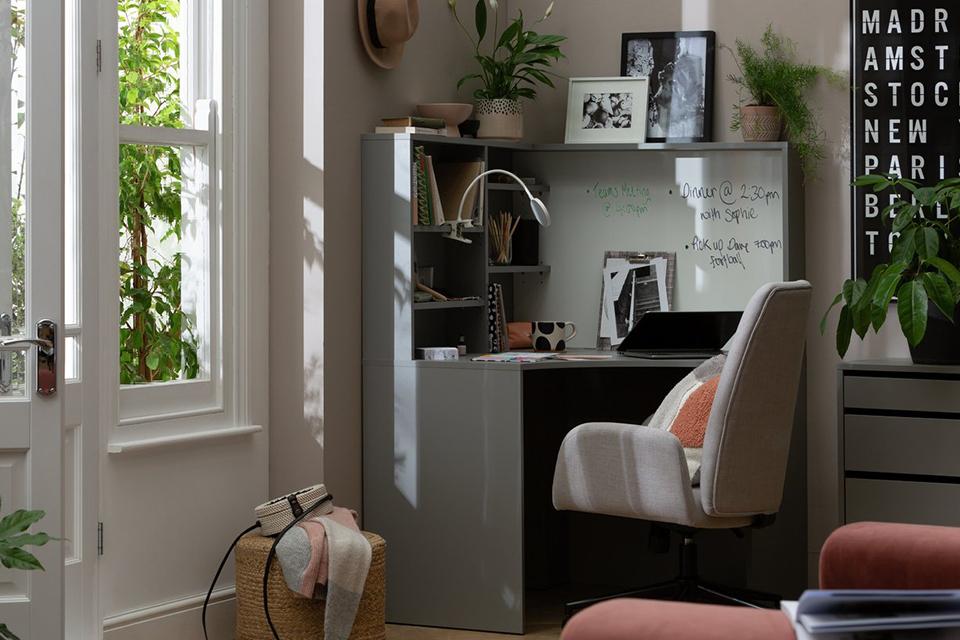 Comfort-fuelled creativity
First thing's first, make sure your office desk and chair are right for you to avoid aches and pains. Check out our guides to get you suited and booted and set up to succeed.
Get the lighting right
If you can't get parked next to a window, then it's time to improvise. Desk lamps or space saving wall lights will keep eye strain at bay, especially on darker days.
Feel-good furnishings
You're not going to get your best work done if you're sat in a dull, uninspiring space. Zhuzh it up with some calming plants or idea-sparking imagery.
Organised and orderly
Keep your space nice and tidy. Clutter can be distracting, affecting your creativity and in some cases making you feel anxious, and we don't want that!
Working from home tips
You're all kitted out and ready to seize the day, however, you may find your focus strays or productivity slows. Follow these tips to get you over the lull and sailing towards a successful day.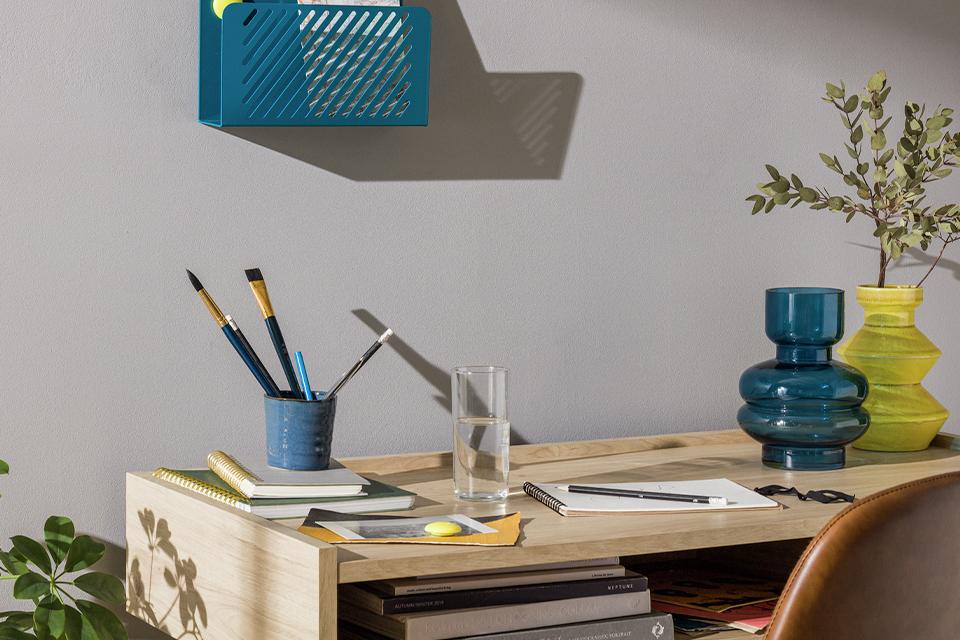 Stick to a routine – Get up at the same time, get dressed, have brekkie and maybe allocate some 'you time' before work begins. When your shift ends, stop working. No peeking at emails!

Take regular breaks - Walk around, do stretches or grab some fresh air. This will give your eyes a break from the screen, your body a rest from sitting for hours and your mind the chance to clear.

Make social time - You're used to an environment that's buzzing and full of colleagues you can bounce ideas off and chat with. Make sure to plan informal virtual catch-ups so you can keep in touch and have a good chinwag.

Set boundaries - Explain to your kids and other household members that during these hours you have work to do which requires quiet time.

Stay hydrated - It's easy to forget to drink when you're tucked away at your desk. But if you don't, you may find yourself feeling a little tired and less productive.
Small office ideas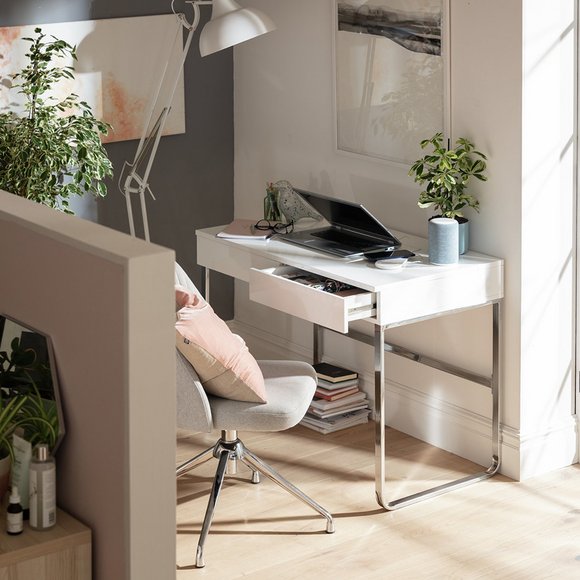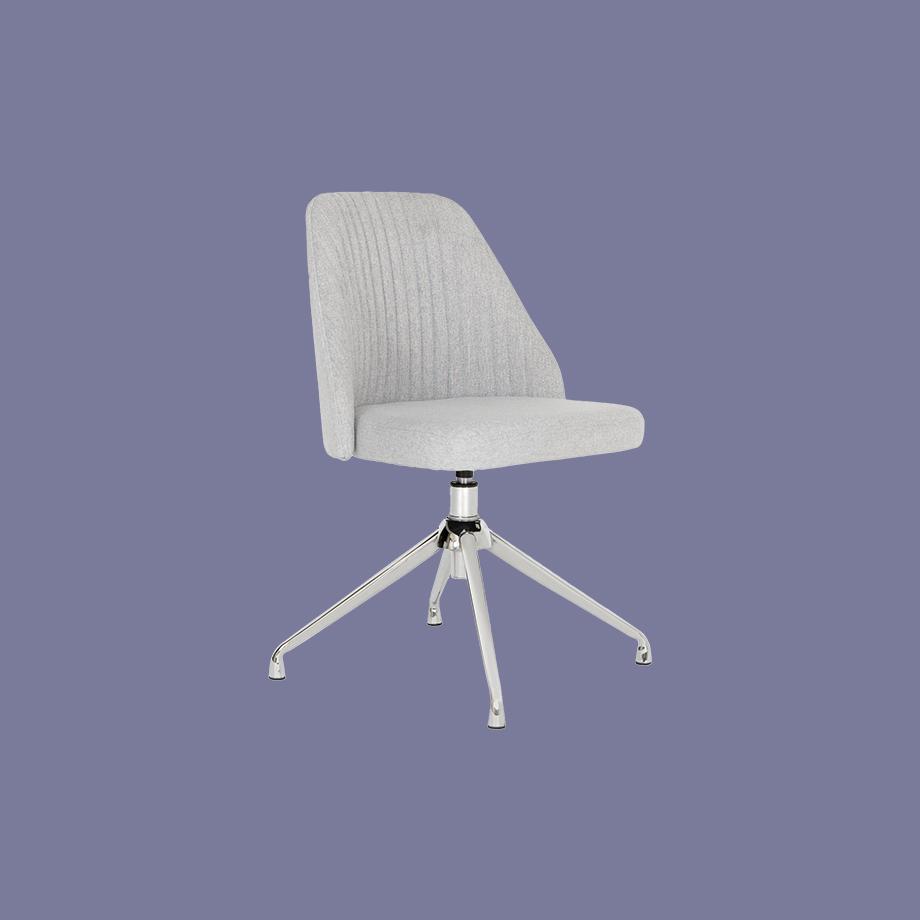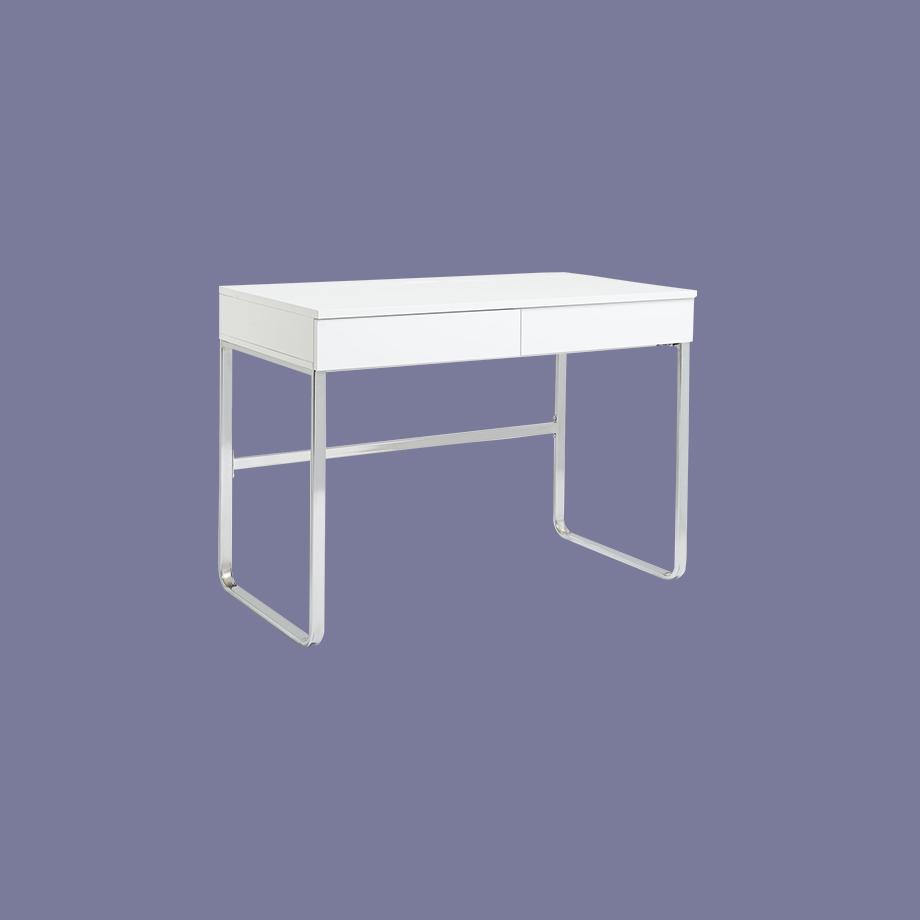 Small but mighty
Converting that teeny, tiny spare room or dedicating a corner of your living room? We have plenty of slim desks and foldable seating to sort your office situation.
Check out our ideas page for more ways to transform your small office space.
Kids' workspaces
Kids' desks
Make their study space a place where homework becomes an adventure.
Our desks are the perfect size for mini Einsteins with plenty of storage for their stationery.
Energetic, in-house designed patterns and bold colour palettes fuel the imagination and turns bore into explore.
Kids' office accessories
Trade dull desks for an exciting den or swap out that bum-numbing chair with a squishy petite seat that's their perfect size.
Add playful storage and magical character accessories to make their work zone a place they look forward to sitting at.
Time to unlock their creativity.
More home ideas
Why buy at Habitat?