Small dining room ideas
How to create your dream dining room, even if you're short on space.
Small talk
Dining space a little on the small side? Don't sweat it. We're here to show you how, with the addition of some space saving furniture, you can find yourself some breathing space, without sacrificing on style.
Discover our shapeshifters and stylish storage solvers...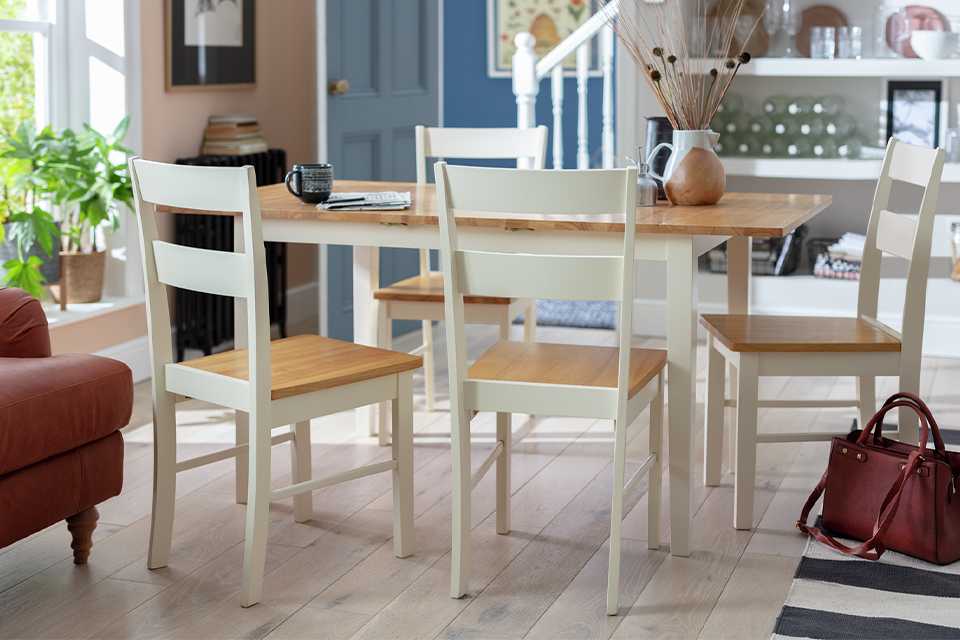 Extendable dining tables
Perfect for squeezing on those extra bums when the occasion calls, our extendable tables can transform in seconds. And if you ever work from home, choose a design that will double up as a desk for you too.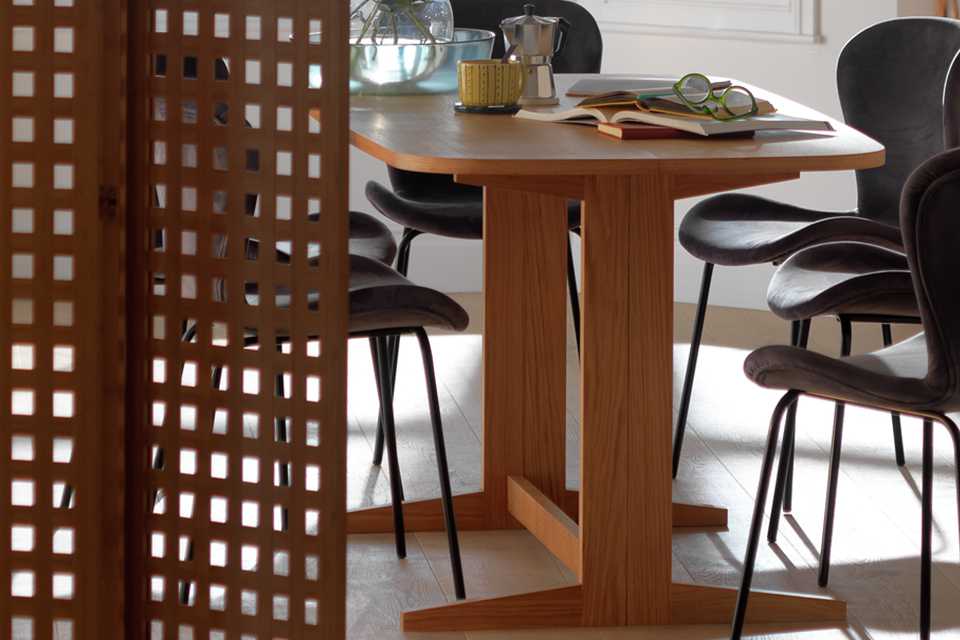 Folding dining tables
If you don't have a dedicated dining room, a foldable table will mean you can set up a dining space as and when required. Plus, when you aren't hosting a dinner party, a folded dining table placed against a wall can work as a console table or desk.
Round or rectangular? You decide...
Round and round
Round dining tables are probably the easiest shape to work with in a small space. They work especially well in awkward areas where chairs can utilise angular corners. A major plus is that they are particularly unrestrictive on numbers – there'll always be room for a small one! Consider a glass dining table; being see-through, they create the feeling of space when, in reality, it's in limited supply.
Work those angles
A rectangular dining table works in a multitude of room set-ups and scenarios. If you are lucky enough to have a separate dining room, they will make the most of a rectangular shaped room, even if it's quite narrow. They also work really well in eat-in, galley-style kitchens. Particularly sociable, they're not too wide, so you can indulge in conversation with those seated opposite.
Small dining room chair ideas
A few clever tricks to keep in mind when selecting your seating...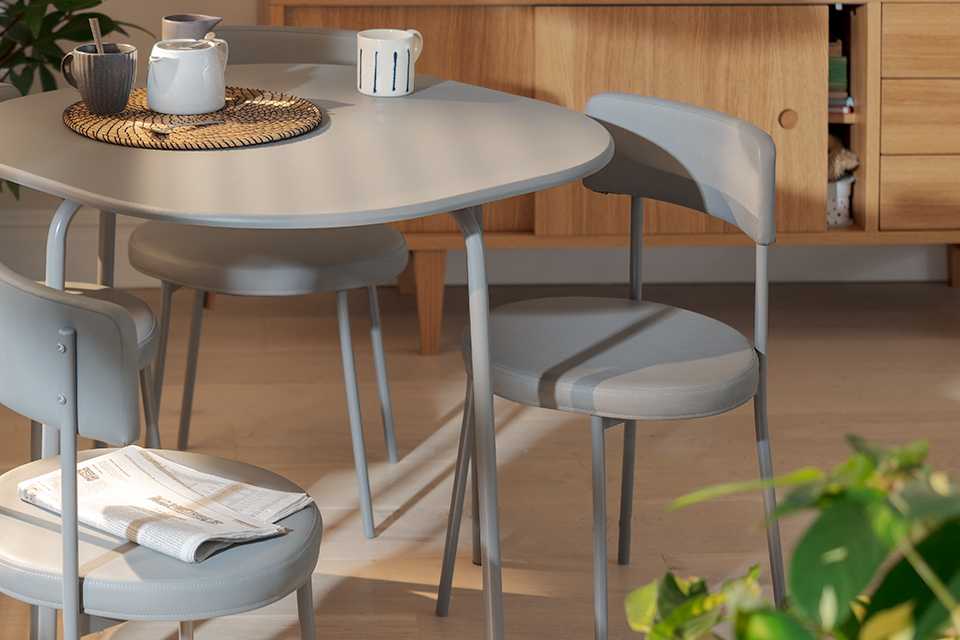 Armless chairs
Dining chairs with clean lines and minimalistic shapes won't eat up space. Look for armless designs that can easily be tucked underneath the table when not in use.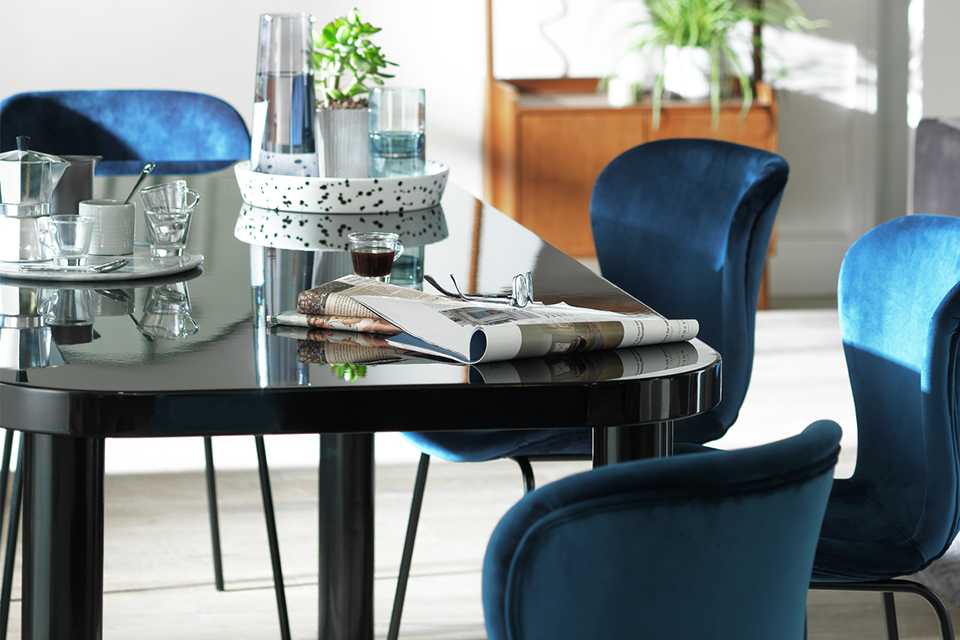 Velvet chairs
Textures are great for adding depth to a room, which in turn can make it appear bigger. And who doesn't love a velvet dining chair?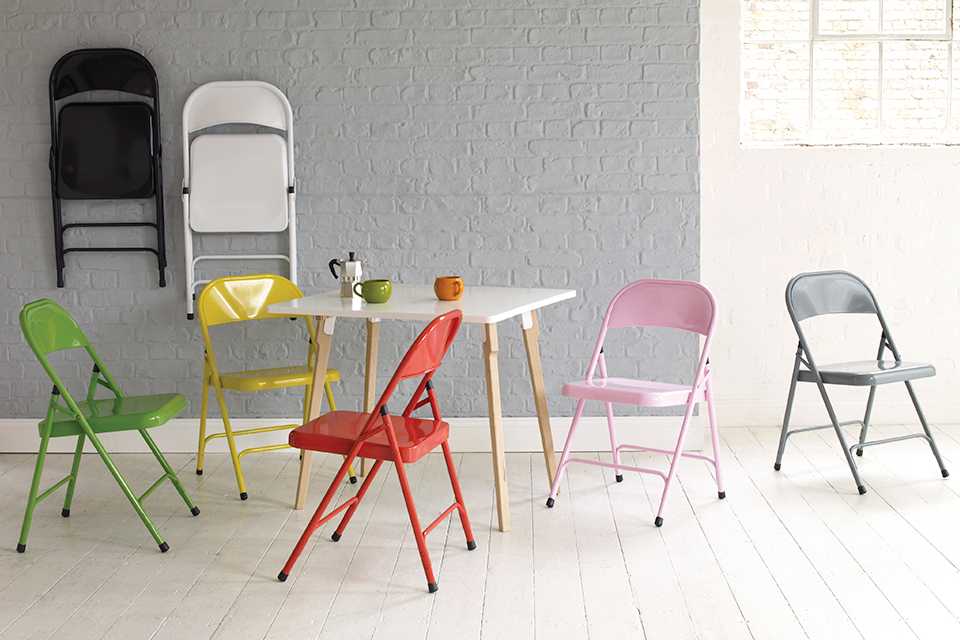 A few alternatives to the traditional dining chair...
On the bench
Have you thought about swapping chairs for dining benches? A great space-saver in smaller dining rooms, a bench can squeeze on more diners and tucks completely away when not in use.
Stylish stools
No space for a designated dining area? No prob. Bar stools are perfect for small kitchen tables or breakfast bars. Those with a streamlined, slim silhouette are a great choice for minimal and compact schemes.
Reflect on this
To add more charisma to a little dining room, it's worth looking at mirrors. Bouncing light around the room, they'll make the space feel bigger and airier.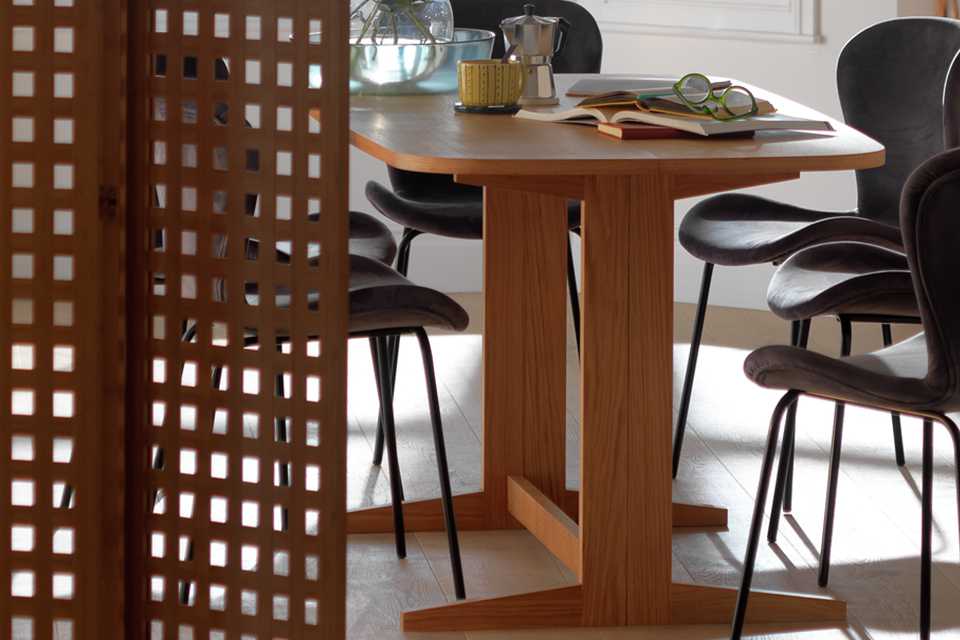 Screen time
In an open plan living area, a screen is ideal for defining a dining space. Creating a cocoon-like feel for intimate dinners, it can also be easily moved from room to room.
Up in lights
Create an inviting atmosphere with ambient lighting. Hang a statement ceiling light above the table to create a focal point and to impart a warming glow.
Host & toast
It's all in the presentation so be sure to show off your culinary delights in style with a brand new dining set, paired with luxe glassware and cutlery.