Dressing room ideas
Try these ideas on for size. Go on, give us a twirl.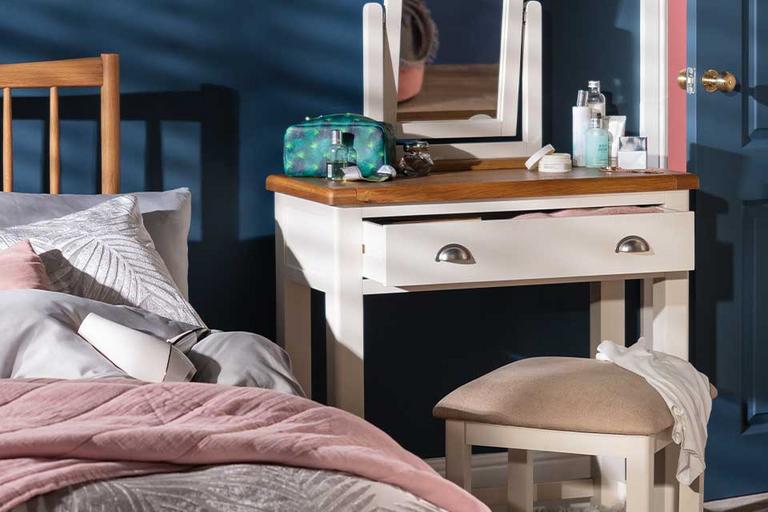 Jazz up your spare room or give that awkward alcove a purpose. Dressing rooms don't have to be enormous, fancy things. Sometimes a small space dedicated to getting ready is all you need. We've shared some top tips to help you create a dressing room that's tip-top.
6 top dressing table ideas
Modern dressing tables
Think sleek and contemporary frames and unconventional colours. Taking a classic piece of furniture and putting a modern spin on it. We think it works a treat!
White dressing tables
One thing's for sure, they go with everything. From glossy to matte, slimline to corner designs, you can't go wrong with white.
Dressing tables with storage
From a couple of cubby holes to plenty of drawers, have all your styling tools, lotions and potions neatly tucked away and at arm's reach.
Black dressing tables
Bold, but not bright, black is another one that'll go with anything. Although, we suggest pairing it with lighter walls, so it doesn't make the space too dark.
Grey dressing tables
Adding colour, without the fuss, grey gets your attention without shouting 'look at me!'. It can look classy and vintage or sleek and contemporary.
Wood dressing tables
Feeling the Scandi style? Wood's the way to go. Making a beeline for the bohemian vibe? Wood makes it look easy.
4 savvy small dressing room ideas
Whether you're transforming that tiny back bedroom, reinventing a corner of the room or even making use of a bare wall, these tips will help you make the most of your small space.
Small dressing tables
You don't need oodles of space to get styled up, and these dinky dressing tables slot perfectly into petite spaces. Sporting plenty of clever storage too, you're getting more bang for your buck.
Wonder walls
Make your wall space work harder by fixing shelves and hooks to give you extra storage to hang accessories, display trinkets and stand your fancy looking bottles.
Split your space
Create a dedicated dressing room section in your bedroom if space is in short supply. You'd be surprised how much a room divider can give that separate room feeling!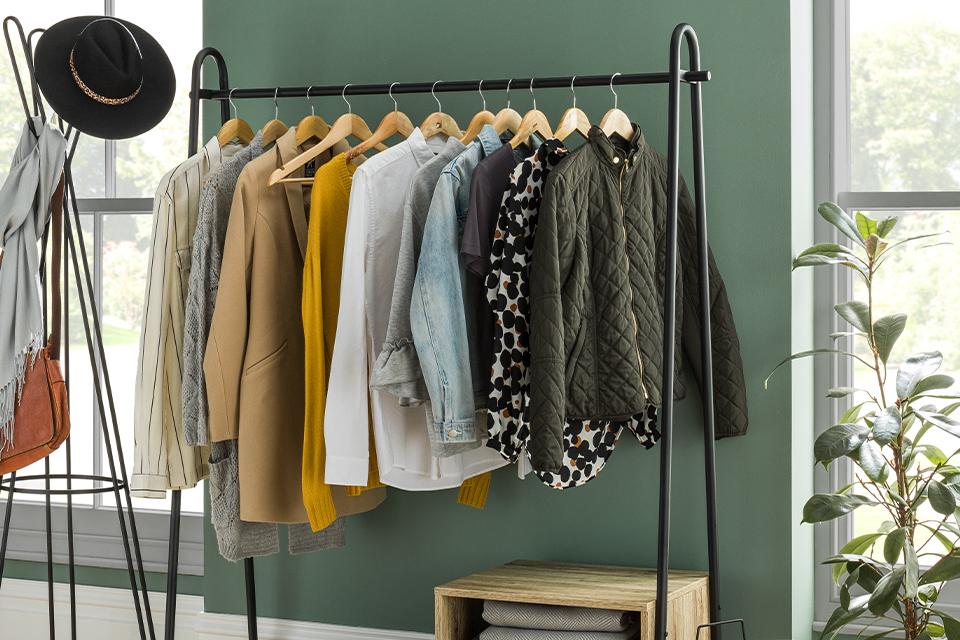 Be clever with your clothing storage
Mirror, mirror...
Take a look in the mirror
The perfect pal for your dressing table. Some pivot and others adjustable. And if a single mirror isn't enough, opt for a duo or trio so you can see more of you!
Head-to-toe
It's annoying when you can't see your whole outfit and trying to choose the right shoes stood on a chair isn't the best idea. Enter the full-length mirror. Now you can admire your look in all its glory.
Ready for your close-up?
Taking up zero floor or surface space, wall mirrors give you the luxury to put them wherever the best light is. They come in different shapes and sizes too, so they'll look almost as good as you.
Dressing room storage
Shoe storage
Shoes can easily become untidy and before you know it, there's piles of mismatched shoes dotted about. There's only one thing for it. Get them a home where they can stay neatly in their pairs.
Ottomans
A seat that doubles as storage? Win, win if you ask us. Our ottoman designs are perches of squishy comfort that whisk you back a few decades with their plush velvet and vintage flair.
Baskets, boxes & bags
Laundry baskets don't have to be boring and accessory storage shouldn't be an after-thought. From wicker to wire, our baskets, boxes and bags make ordinary storage, stylish.
Shelving & hooks
Make shelves a style statement and a place to pop all your bits and bobs that didn't have a proper home before. Hooks are handy to hang things like scarves and bags.
Finishing touches
More fashion moments
Why buy at Habitat?